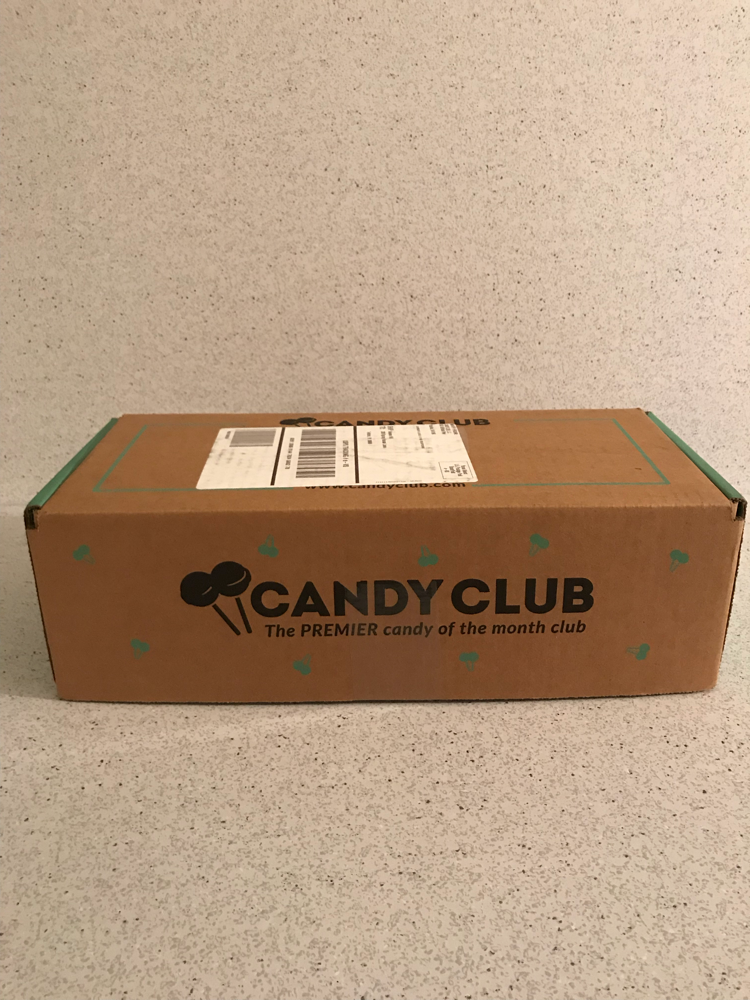 Candy Club is a monthly candy subscription box. Receive premium candies monthly. You'll receive 3 candies a month and can upgrade to receive an additional 3 candies for an extra fee. 
The cost is $32.99 a month + shipping
$167.94 for 6 months + Shipping
$299.88 for 12 months + Shipping
Shipping is $8.99 a month
They only ship in the contiguous United States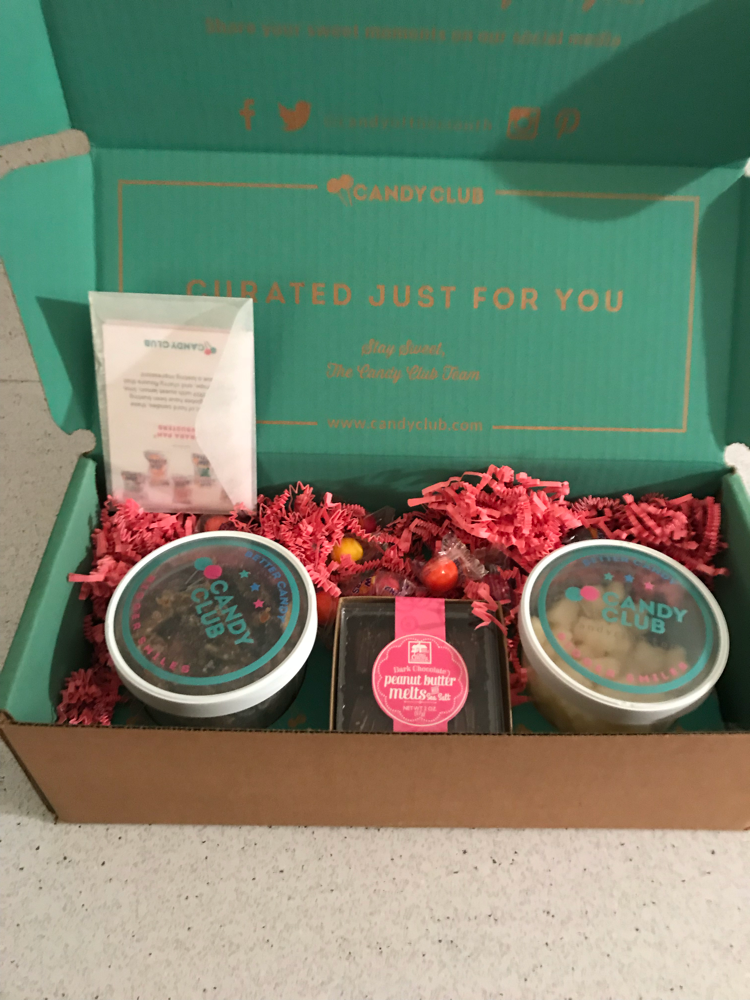 Everything comes packaged very nicely and they also put in loose candies. Be sure to look underneath your containers because I found more of the loose candy there later on. Also included are information cards that give you the name of the candies and on the back is nutritional information.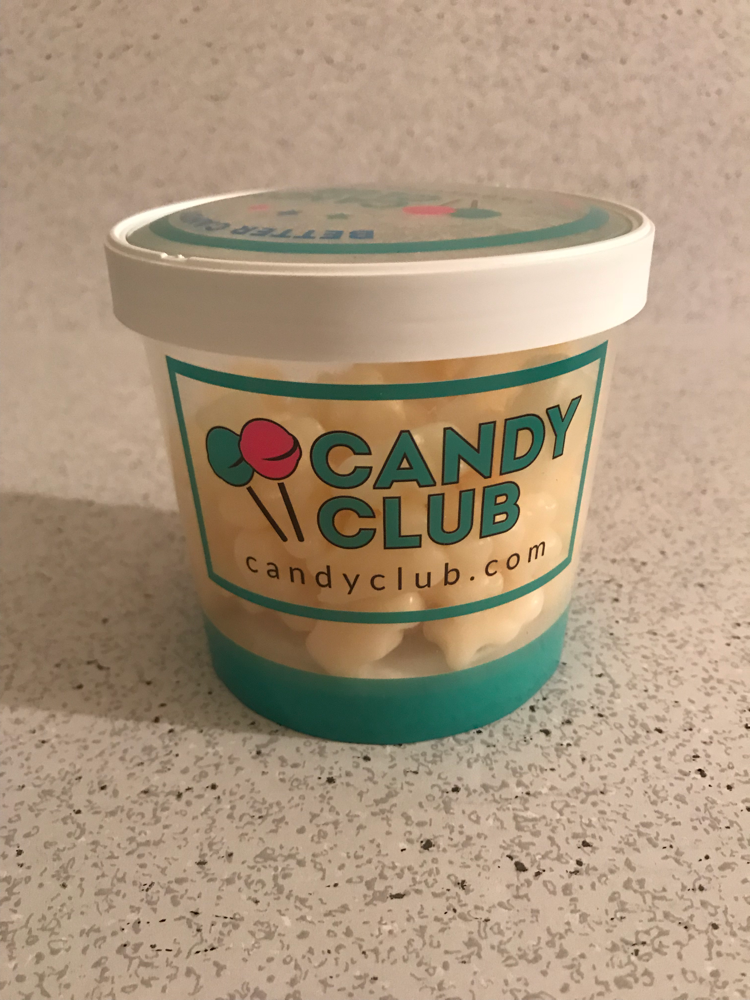 Albanese White Strawberry-banana Gummi Bears. 0.88 pounds. Retail Value $6.64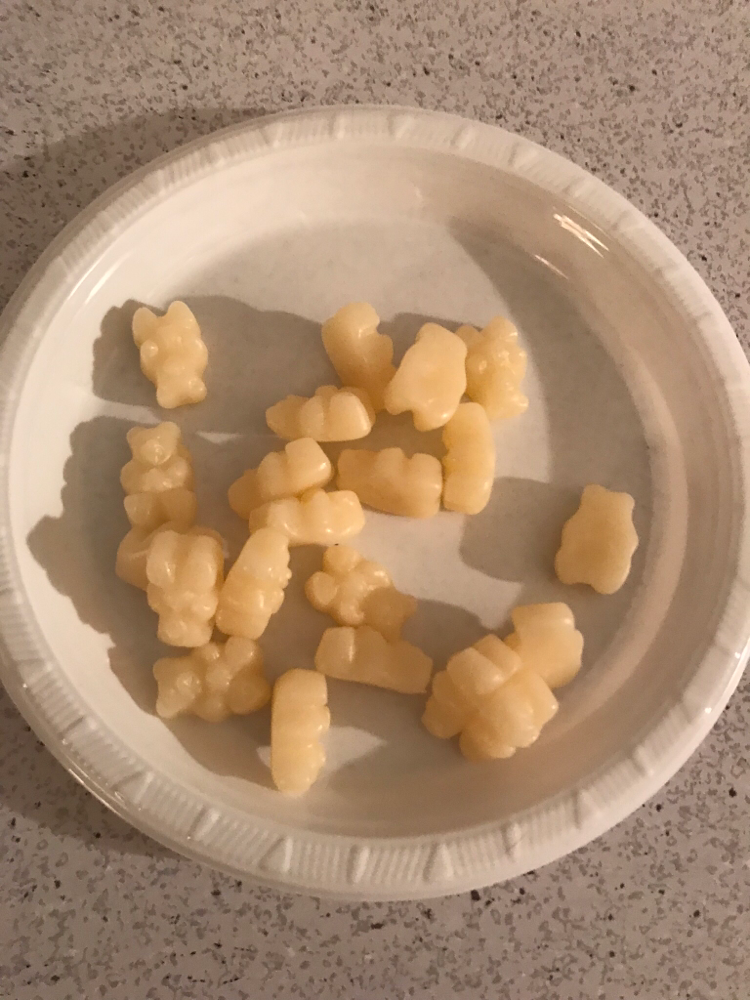 These are so delicious. The flavor is definitely there. This is one of my favorite gummy bears that I've ever had-seriously!! They were beyond good. They were not tough to chew and went down easily- a little too easy! I was very pleased with these.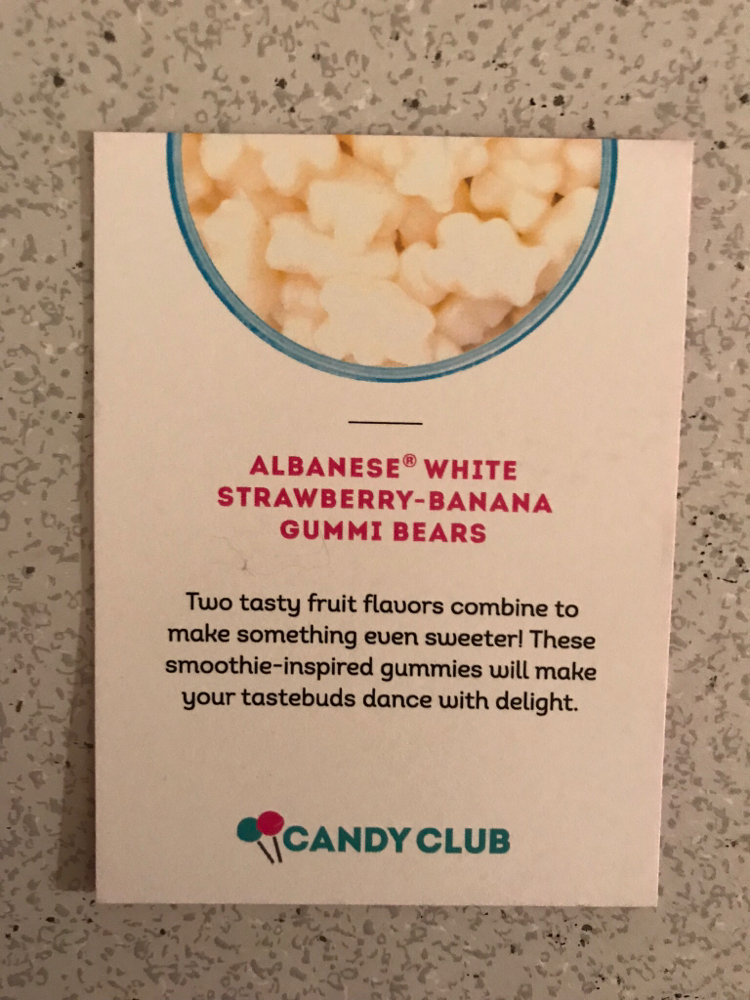 This is the front of the information card for the gummies.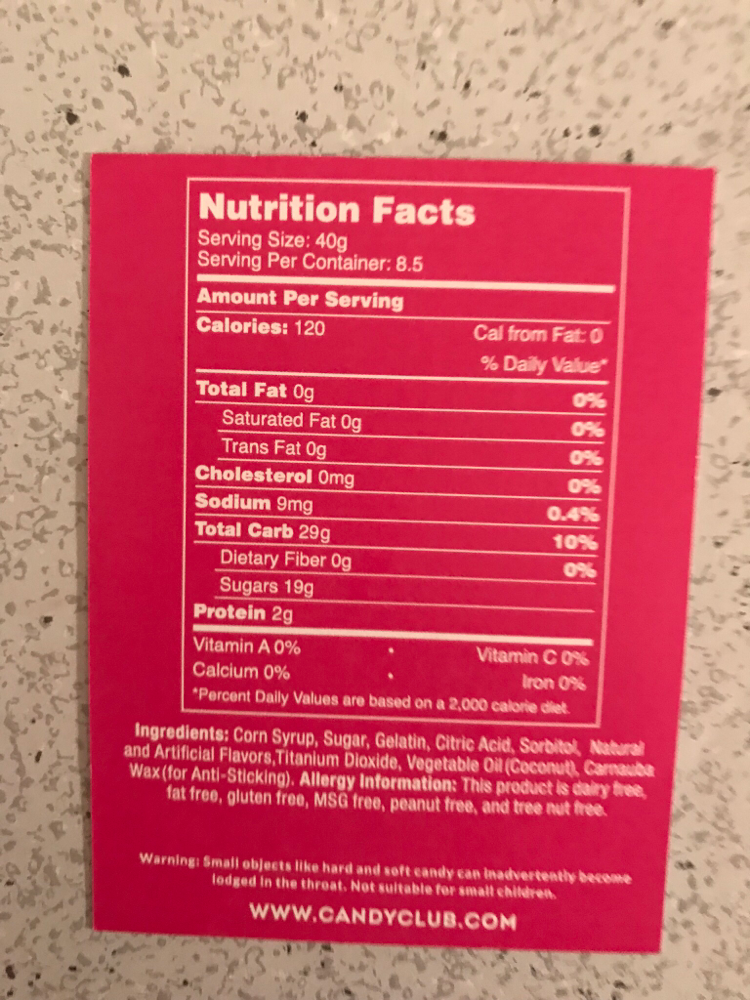 On the back is the nutritional information, but I didn't wasn't to look at that while eating these because they were so so good.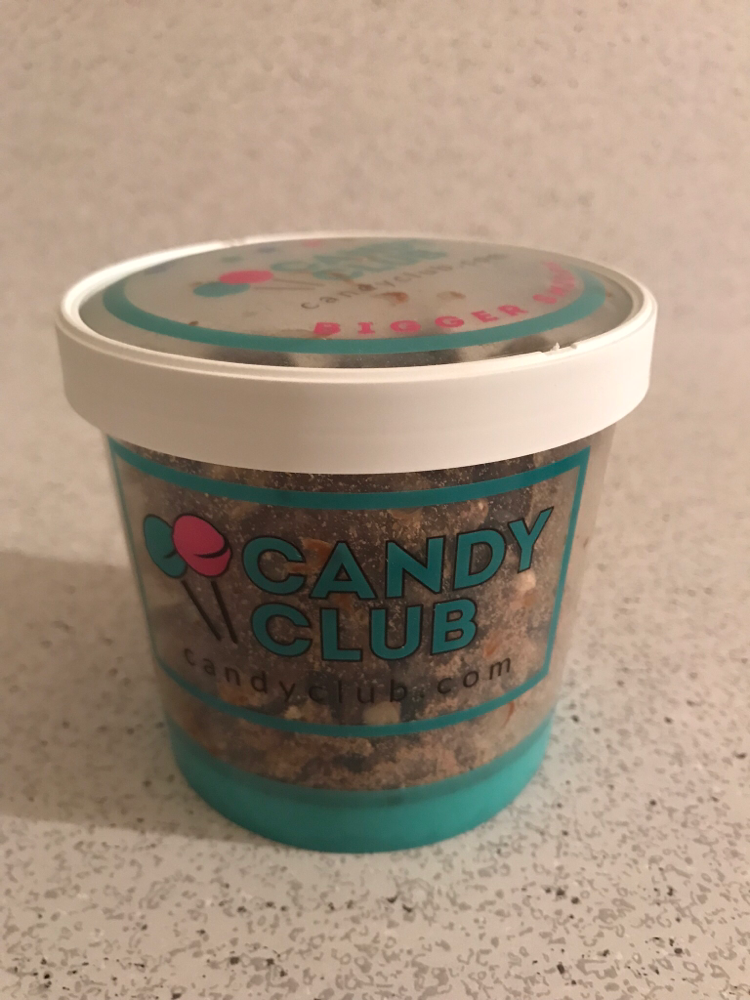 OMG's Milk Chocolate Graham Clusters With Peanuts and Toffee Bits. 0.88 pounds Retail Value $3.60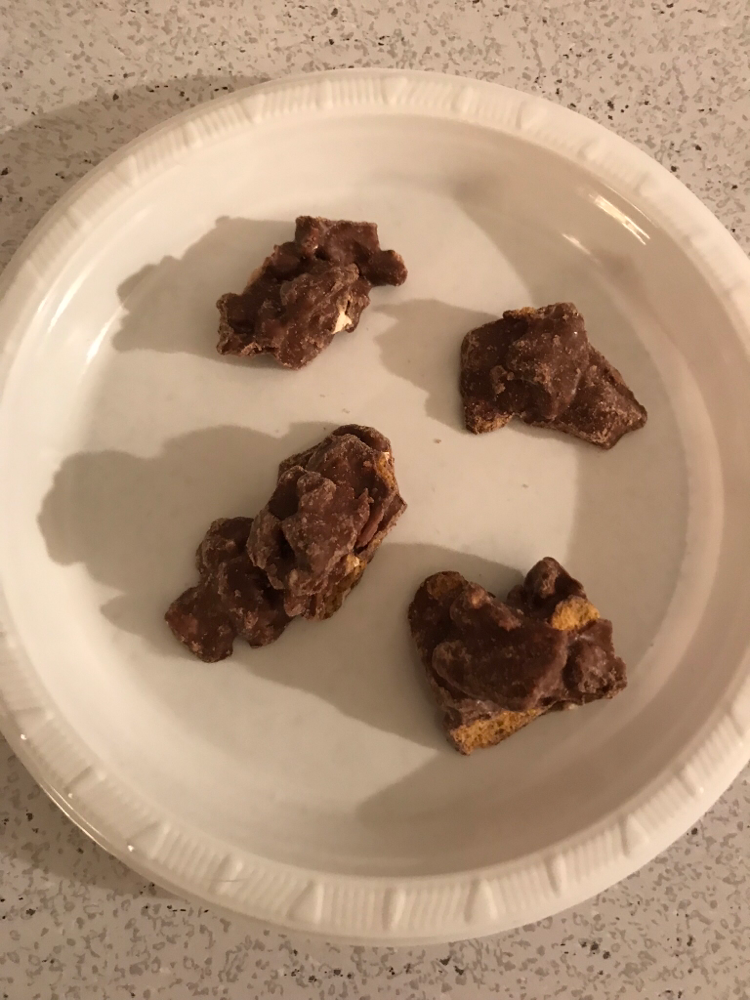 I am a Chocolate lover and I love the combination in these candies. As you can see, you can actually see the ingredients. It's not small pieces of graham, peanuts, or toffee bits. They were visible and I love that. These too were very delicious. Unlike anything I've had before.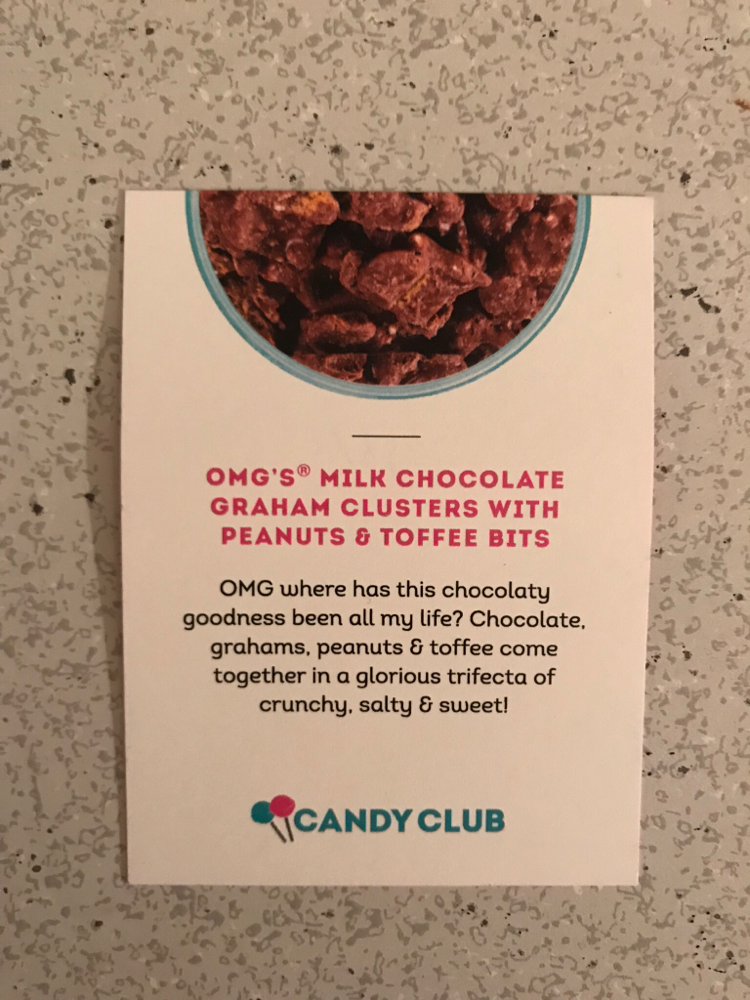 So true OMG!!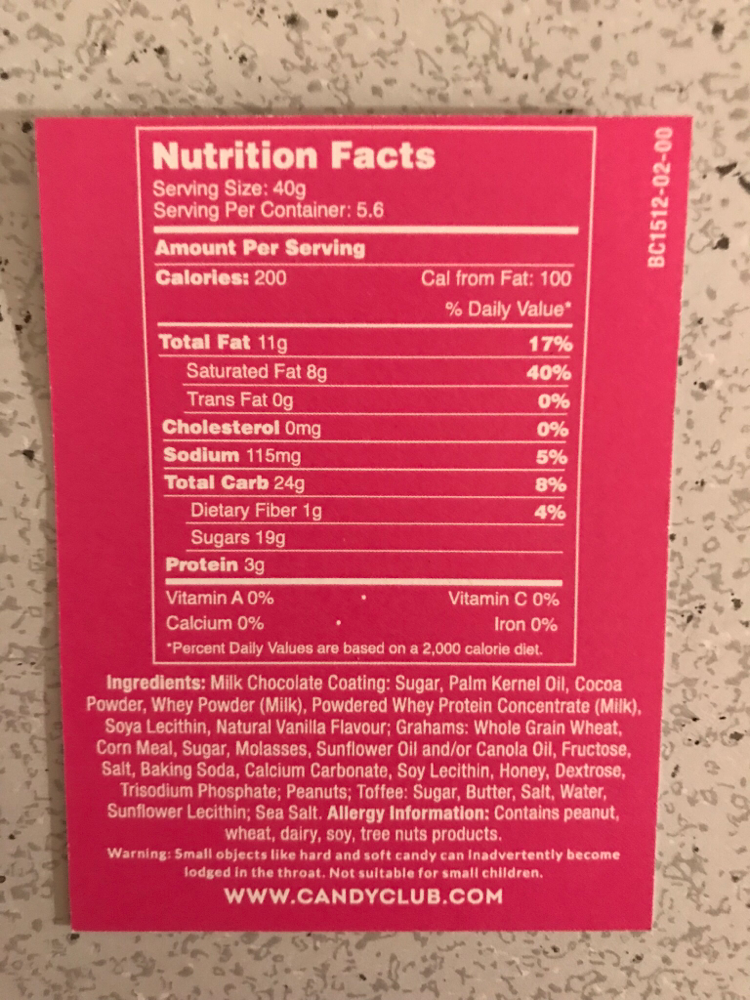 Here's the nutritional information.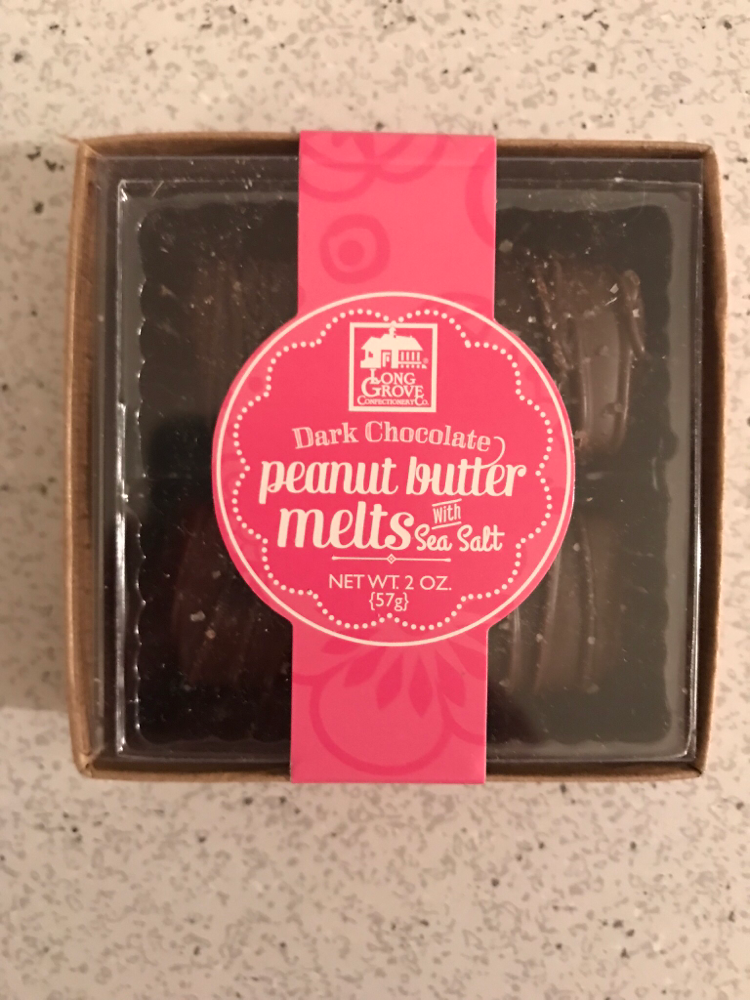 Long Grove Confectionery  Co. Dark Chocolate Peanut Butter Melts With Sea Salt. I cannot find the Retail value on this, as the site and another site that sells them does not have prices listed. I'm guessing $5.00-$6.00?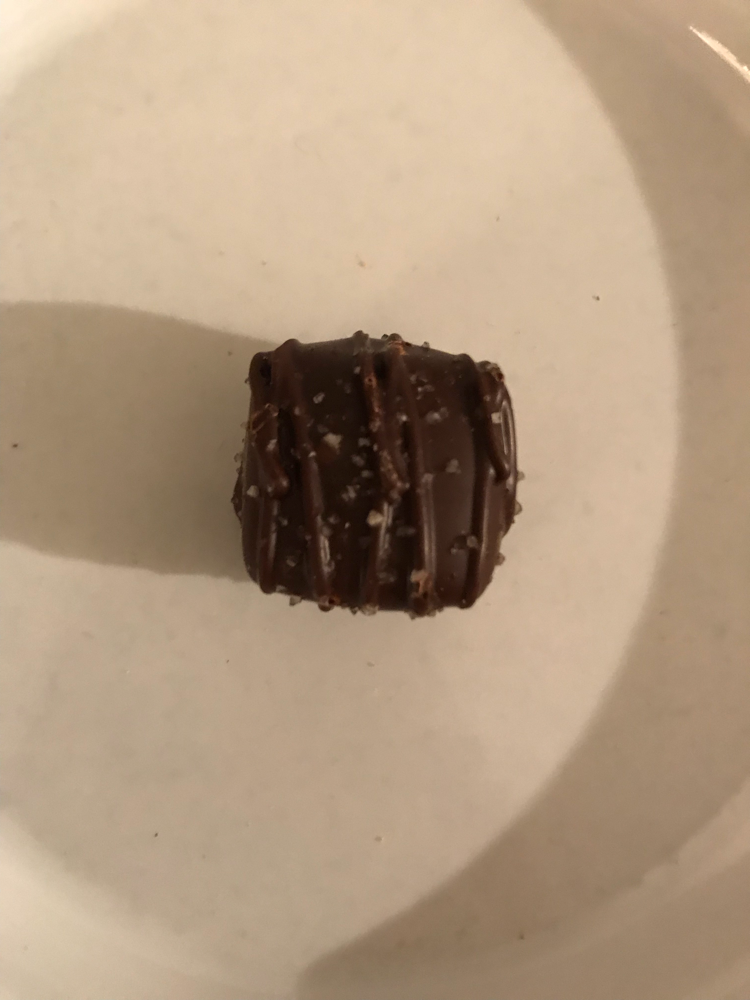 You can Sea the Sea Salt right on top. Some candy you can barely see it, but this you definitely can.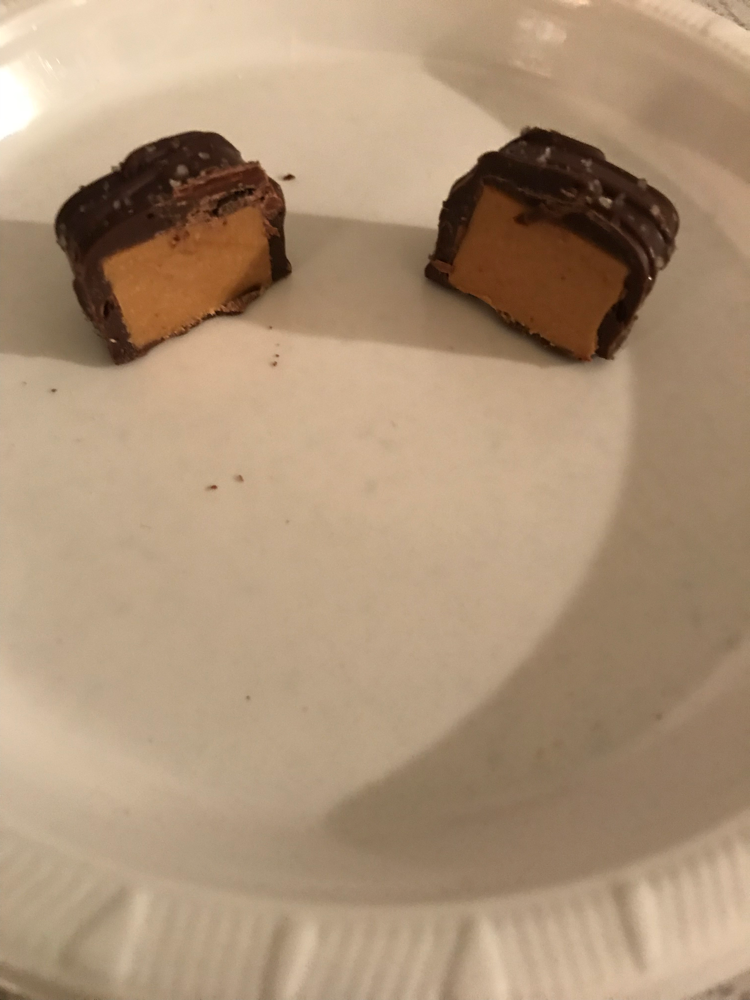 This was my favorite candy in the box. It has all the things I love. Chocolate with Sea Salt and peanut butter. How can you go wrong. They were creamy and delicious and not chewy at all. All time favorite candy from candy club!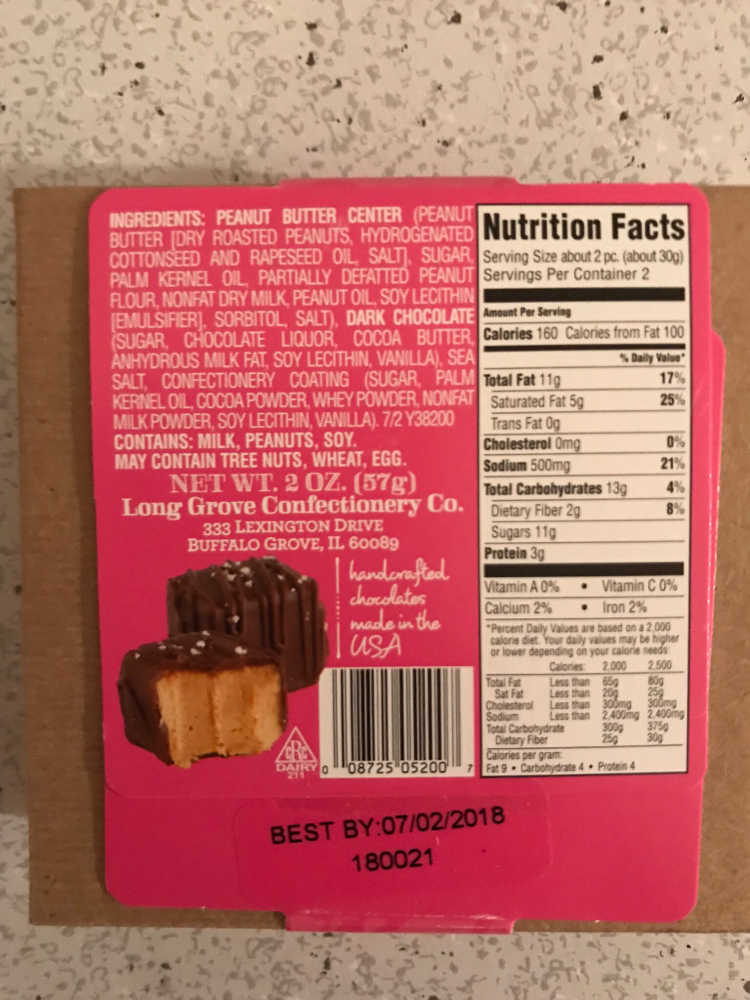 This didn't come with a card, but this is the nutritional values.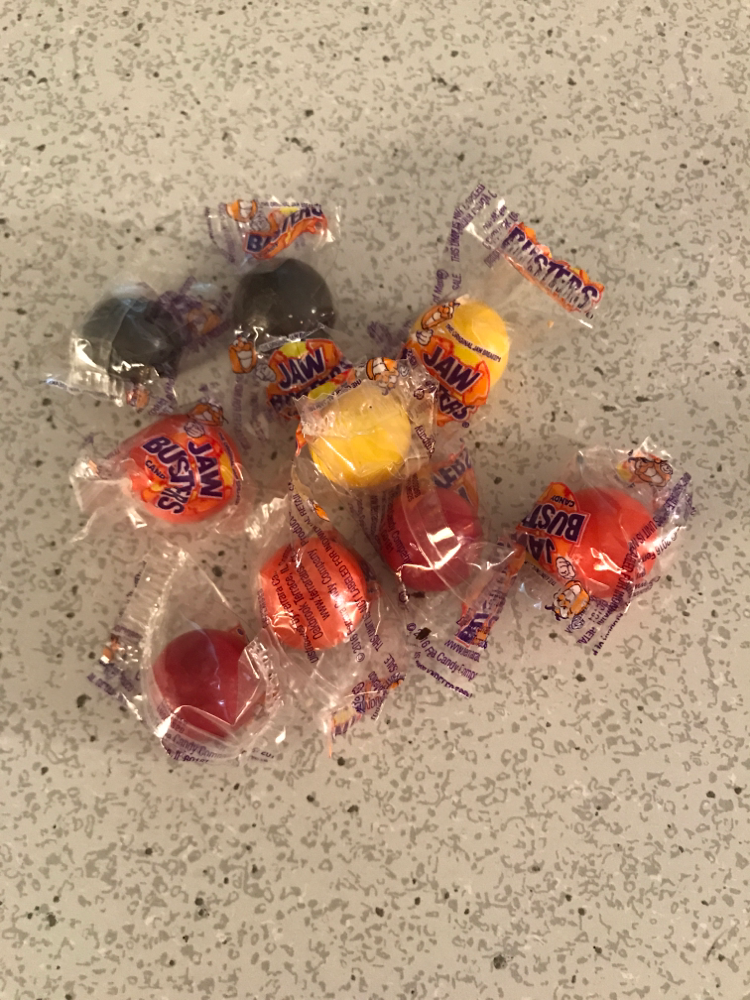 Jaw Busters Jaw Breakers. Retail Value $1.79
I'm not big on hard candy. I Particularly don't like jaw breakers as I can't chew them right away. I did have one, but there wasn't a flavor and i just wanted it to be where I could finally chew it.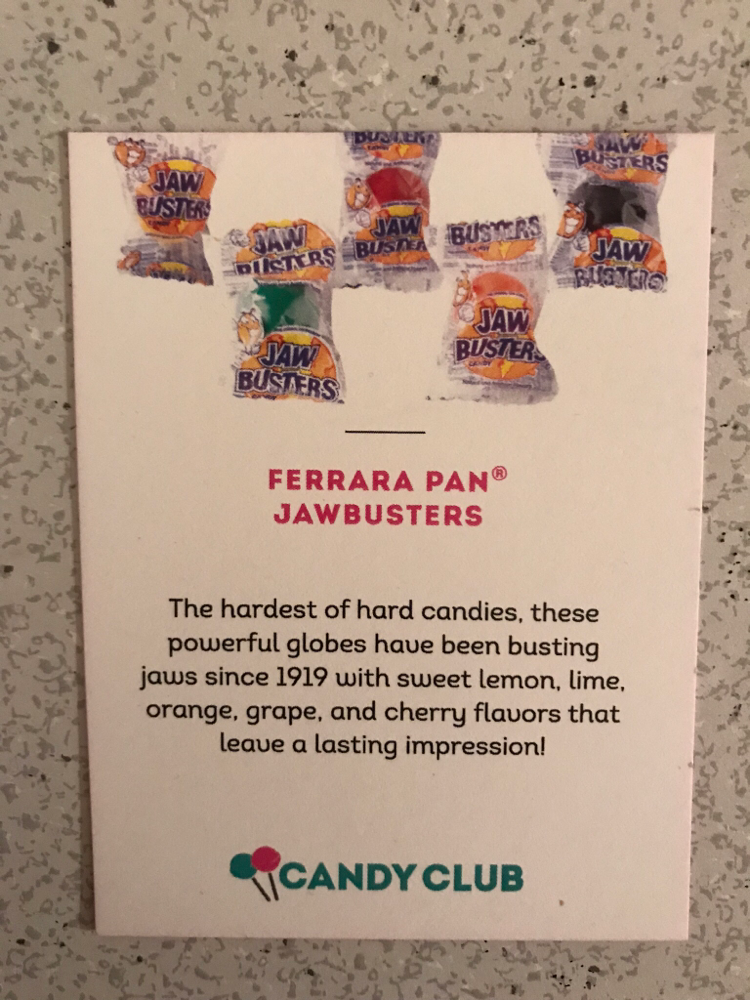 The card says that they're flavored, but as I said I didn't think it really had one.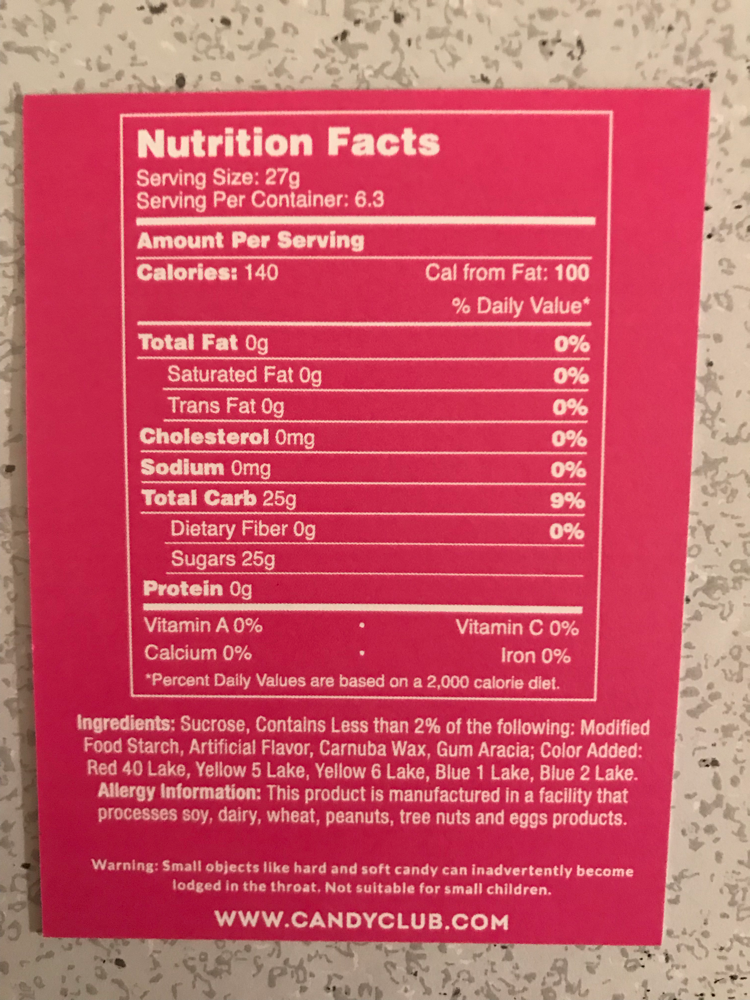 Here's their nutritional value.
What do you think of the Candy Club?
Comment Below.
To save $15.00 Off your First Box use the link below and it'll automatically be taken off.
Overall Verdict: The Retail Value of this box was $18.03. The value is a little low, but with boxes like these that's to be expected. I love the candy that came with my box and I think that they give you a lot of it. I know that you can customize your box most months too, which I really like. I really like candy club.
This post may contain referral/affiliate links.