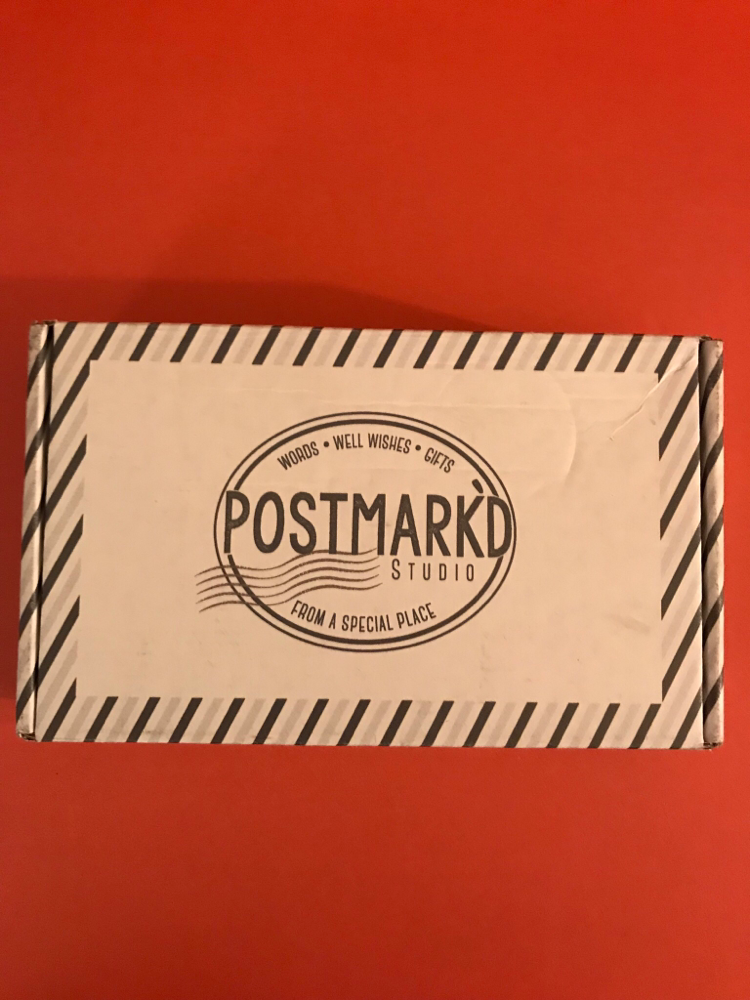 This box was sent to me at no cost to review. I apologize for the late review as I have been sick for quite some time now. 
Ok enough about me. On to this great box.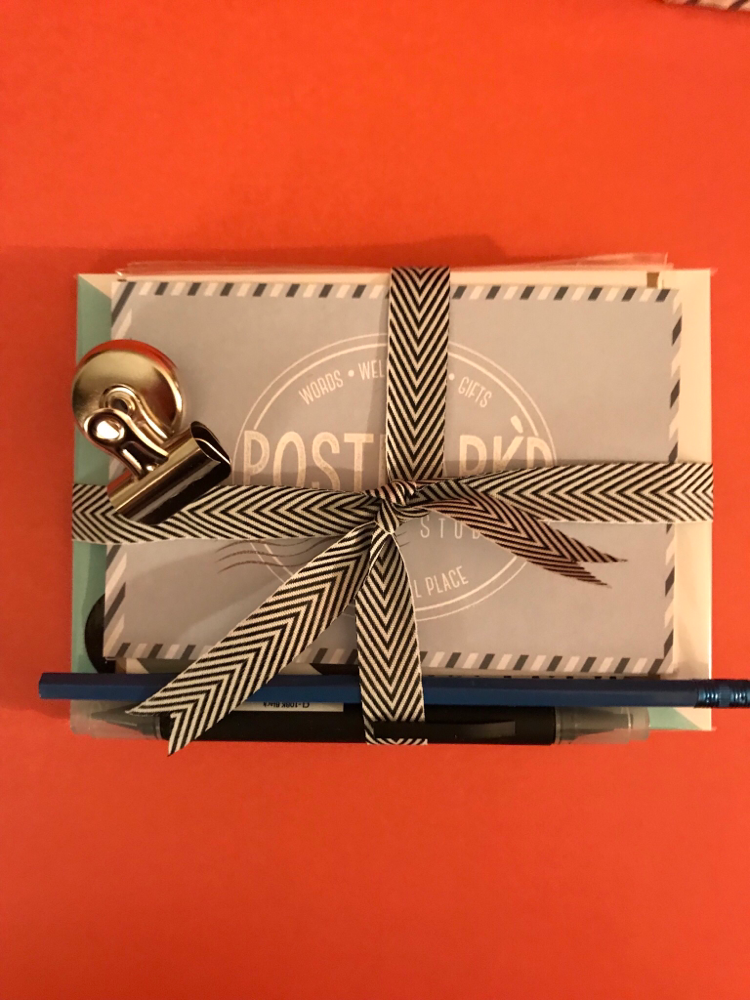 Postmark'd Studio is a stationary subscription box. Every month your Box will feature a citation of high-quality greeting cards, paper, and lifestyle products.
Cost is $25.00 a month + $5.95 Shipping
All of your items come beautifully wrapped as shown above.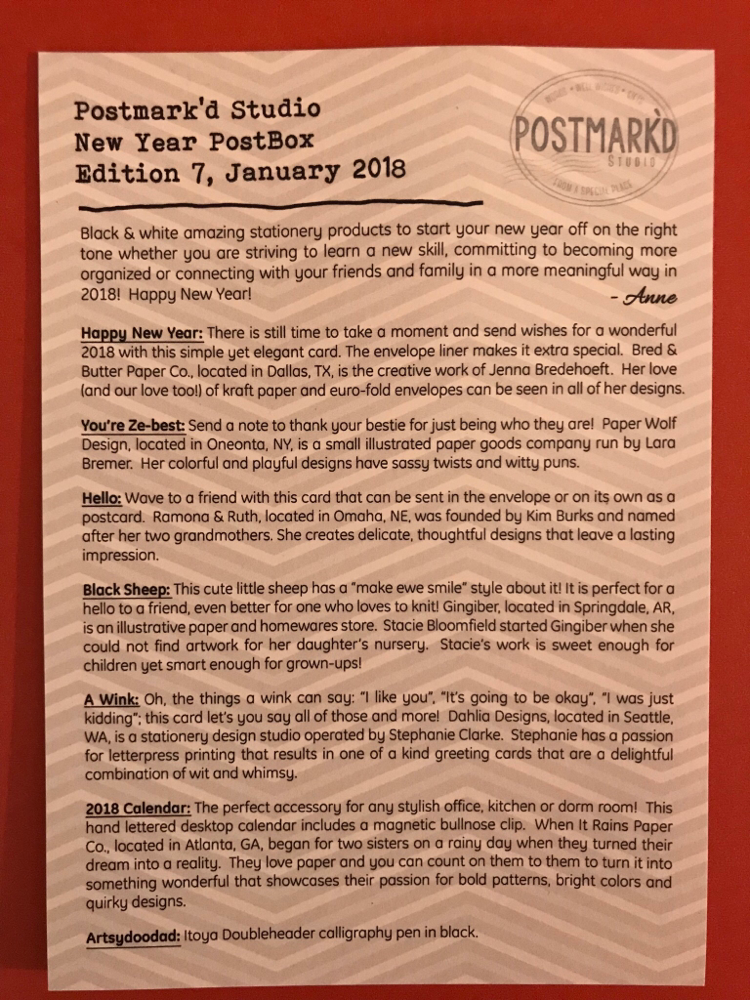 This card detailing each item in your box is also included along with the theme. This is the New Year Post Box, with black & white stationary being at the center of it.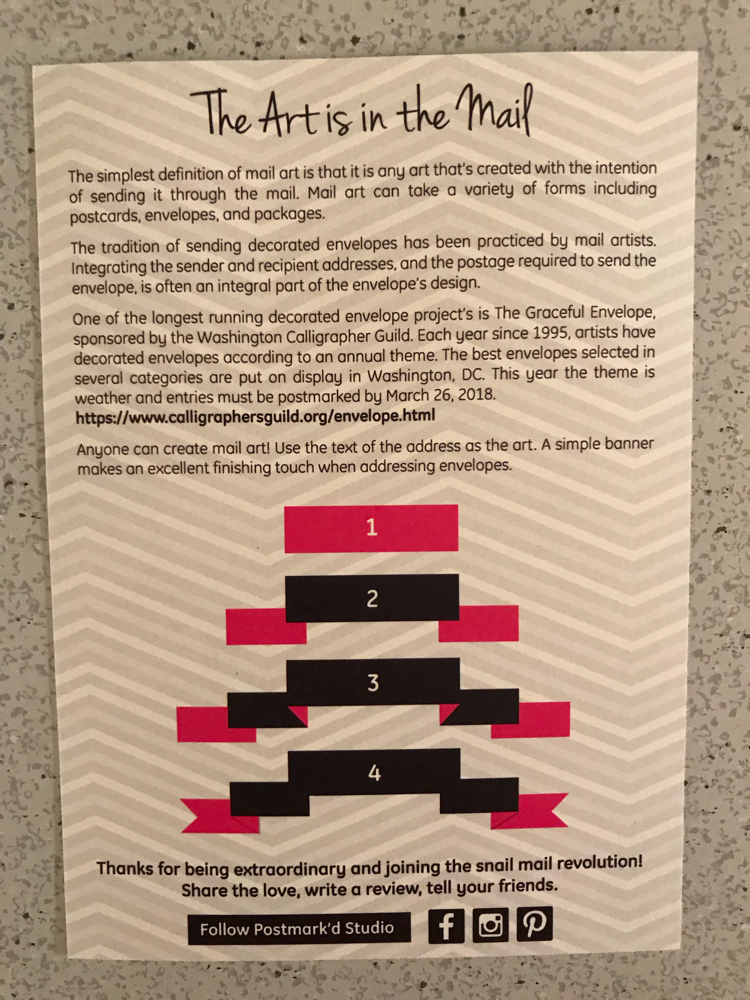 On the back it talks about Mail art. There's a mail art competition going on called The graceful envelope, sponsored by the Washington Calligrapher Guild. Where you decorate an envelope according to an annual theme. This year the theme iswinter. Entered are due by 3/26/18. Here's the link if you're interested. 
Now the best part, onto the box.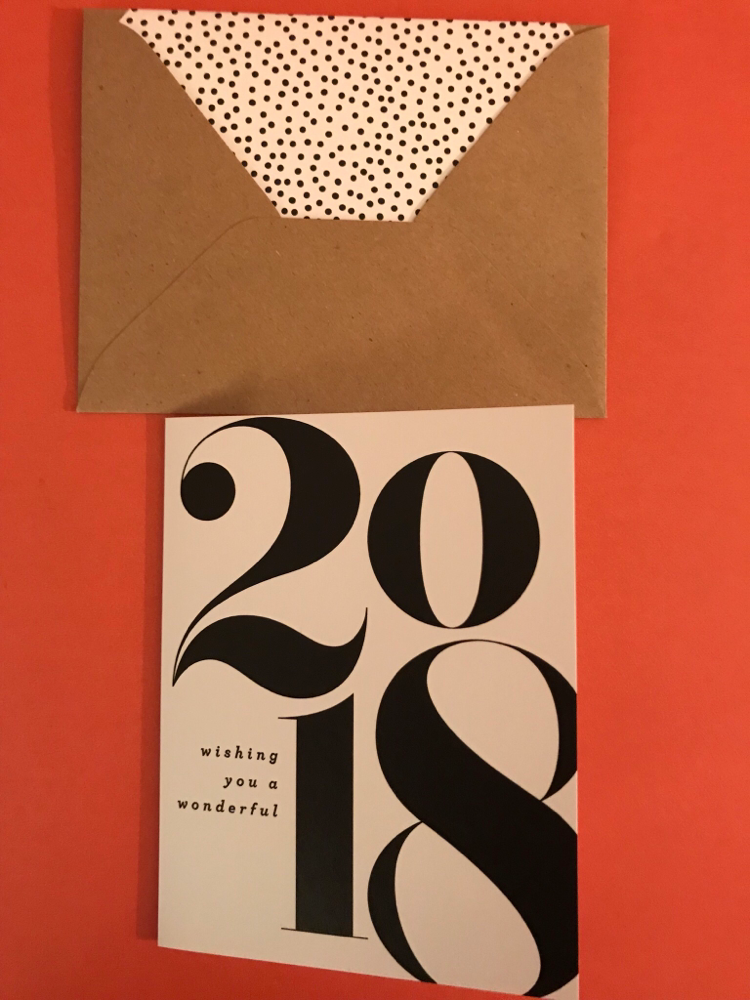 Happy New Year Card By The Butter Paper Company.
Retail Value $5.00
This can even still be sent to wish someone a Happy New Year. The card is blank inside, they all are, which I prefer to put my own heartfelt message to someone which you can do with this card to say Happy New Year.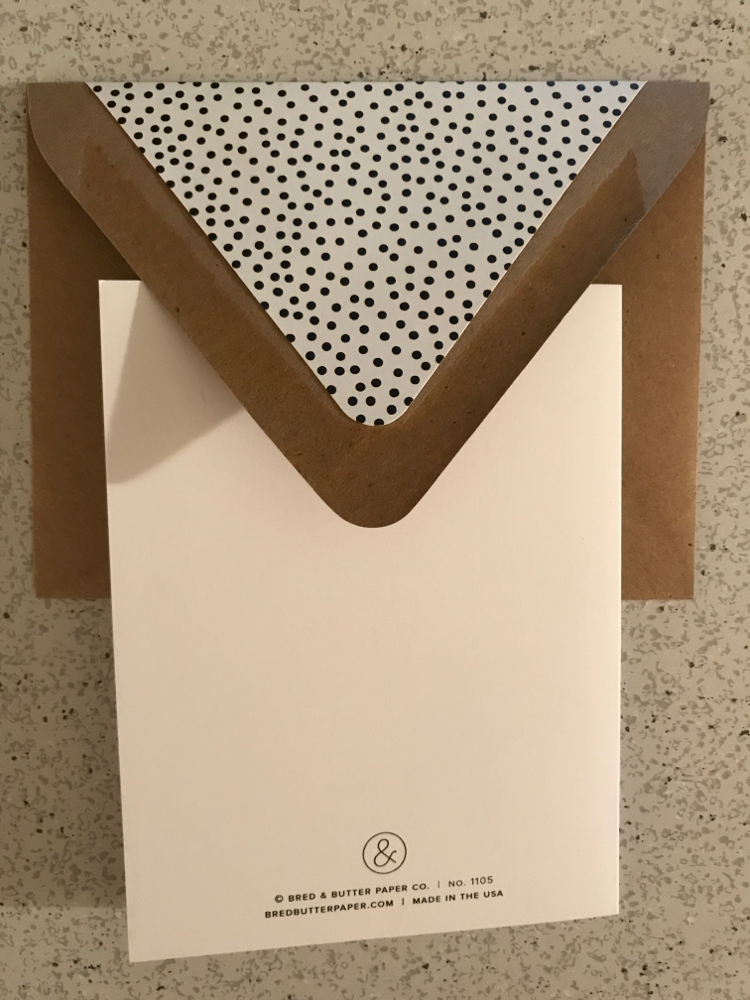 The envelope is gorgeous and the designer of this card and envelope using kraft paper and euro-gold envelopes is used in all of her designs.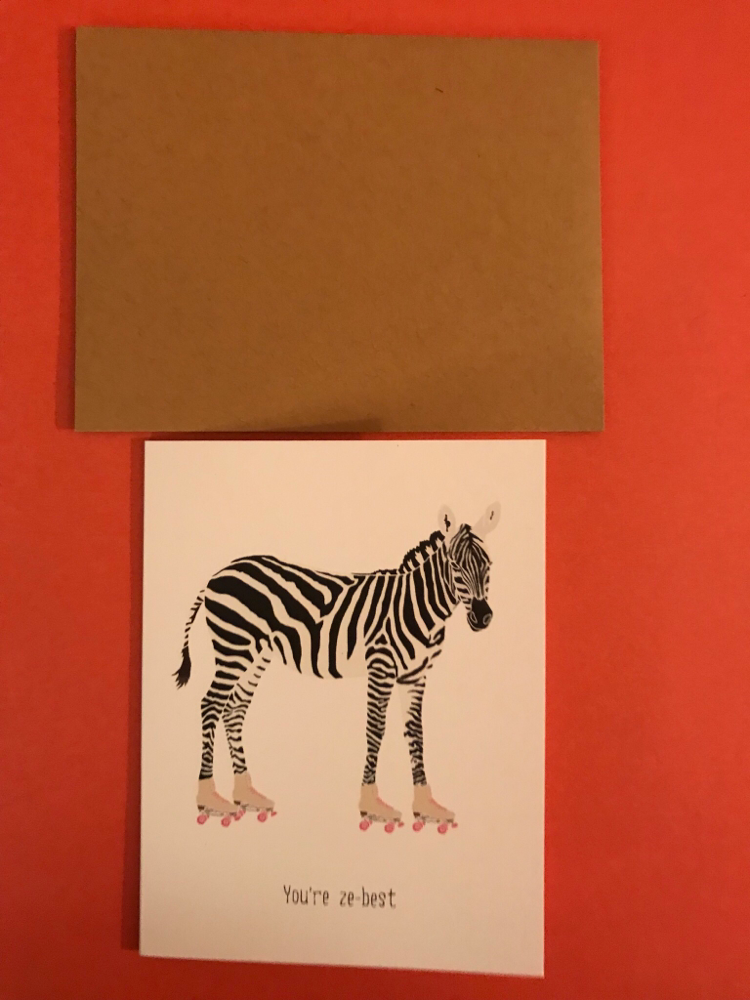 You're Ze-Best by Paper Wolf Design.
Retail Value $5.00
This is an awesome card to send to a friend or family member just to tell them how grateful you are for them. It can also be used as a Thank You Card as well. I think this card is so adorable andcan not wait to send it, and all of the cards.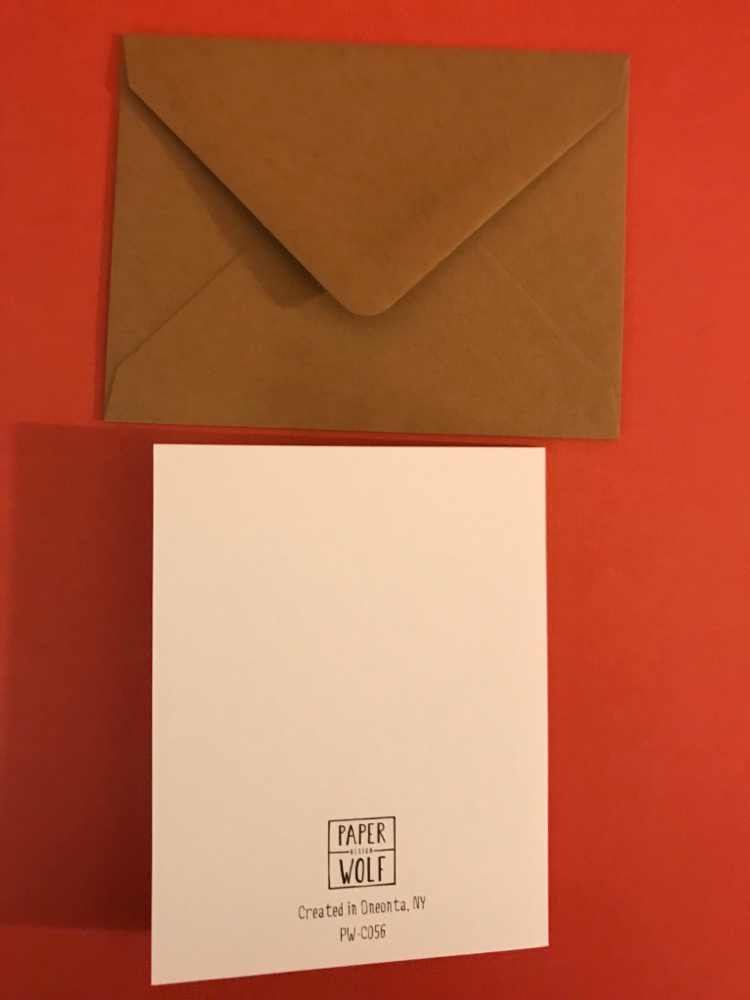 On the back of all the cards it has the company name and logo. Paper Wolf Design is located in NY. The designer's designs have sassy twists and witty puns.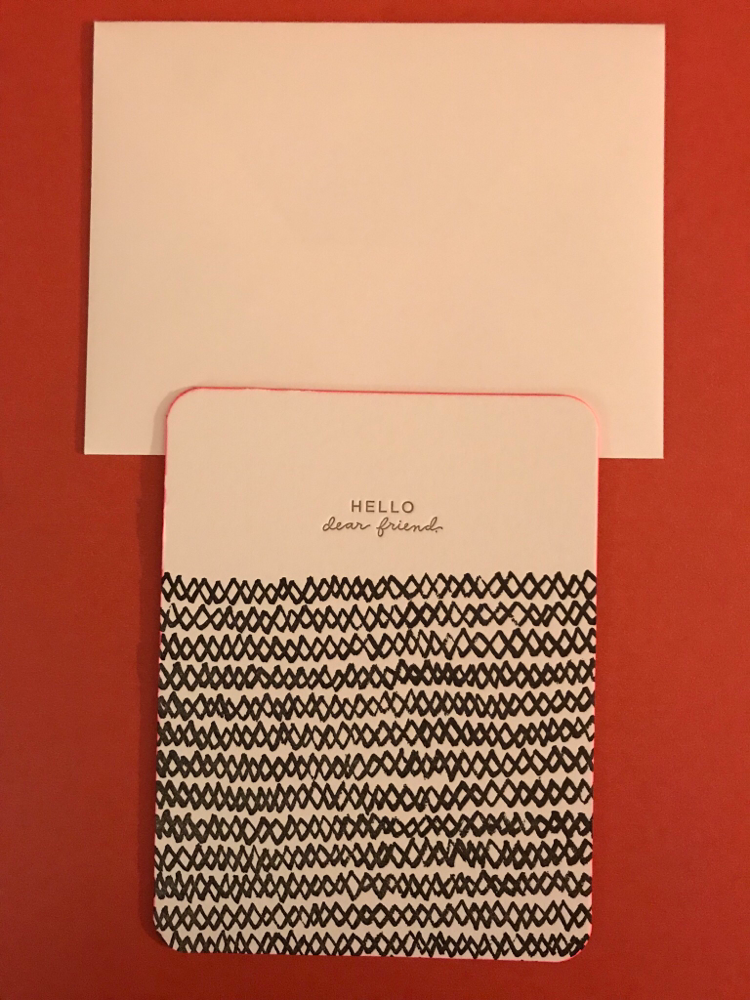 Hello (dear friend) Made by Ramona & Ruth.
Retail Value $7.50.
This is my favorite card out of the lot, I love how it's a card, but also like a postcard, as you'll see in the next Picture. I also just love the design. The card also has texture to it.
This is my favorite card out of the lot, they're all great, but something about this just draws me to it. It's texturized and is almost like a postcard. It's a great way to send a little note to a bestie.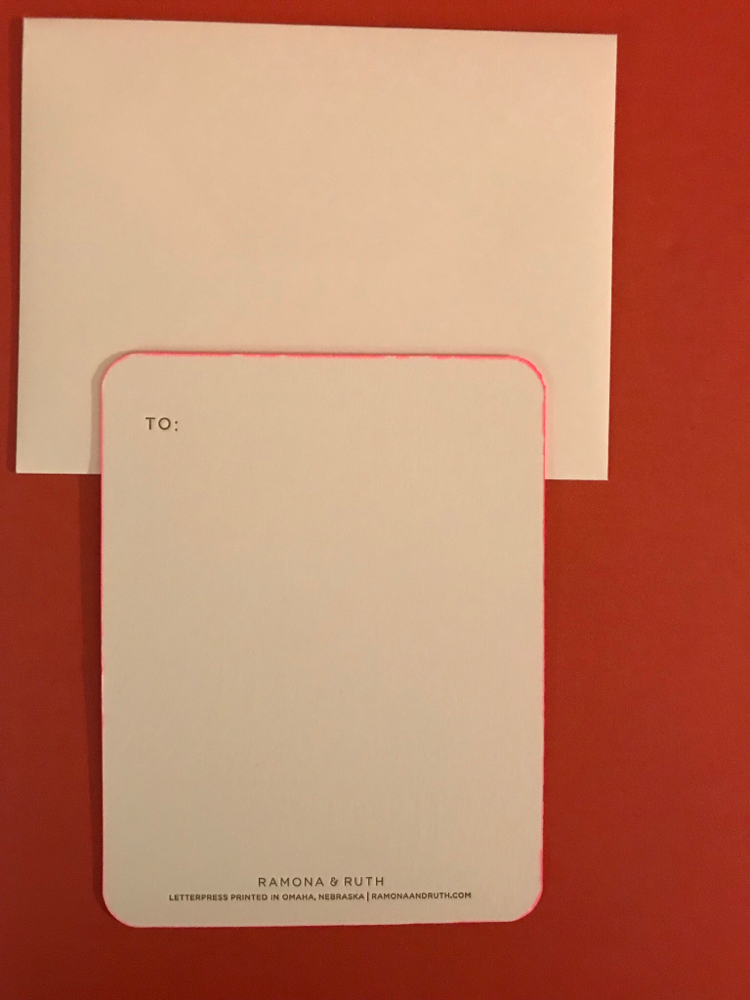 As you can probably see as to why this reminds me of a postcard. It's just so cool though.
Romona & Ruth is located in NE. The founder Kim Burks named the company after her two grandmothers. Her designs are thoughtful that leave a lasting impression, as it did on myself and that was before I read her information.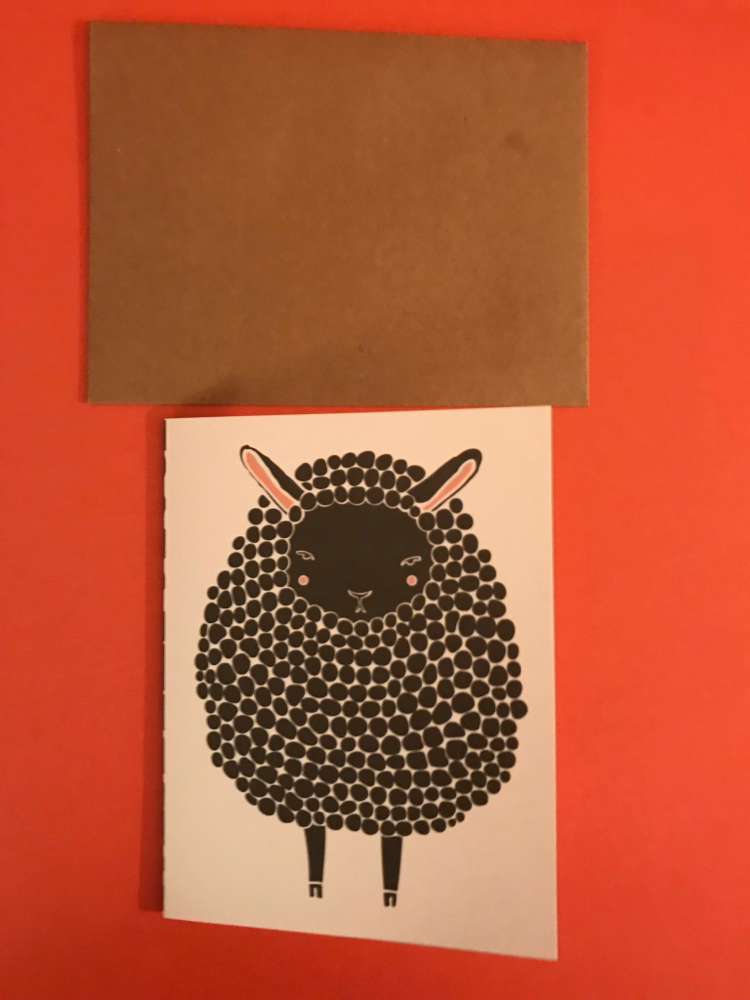 Black Sheep Card By Gingiber 
Retail Value $4.50
This card is so adorable. It gives me a warm, cozy feeling. I will send this card to one of my grandmothers.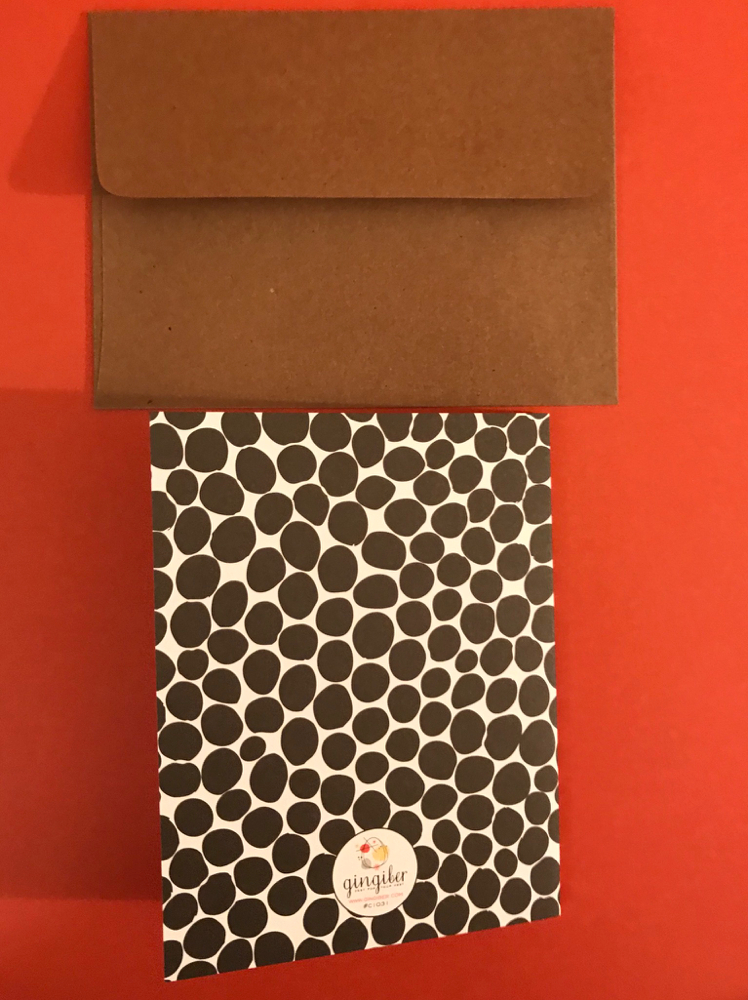 I love the back of this card as well. It's just awesome all the way around. 
Gingiber is located in AR. Stacie Bloomfield is the owner and designer that creates designs that are great for children, but also perfect for adults.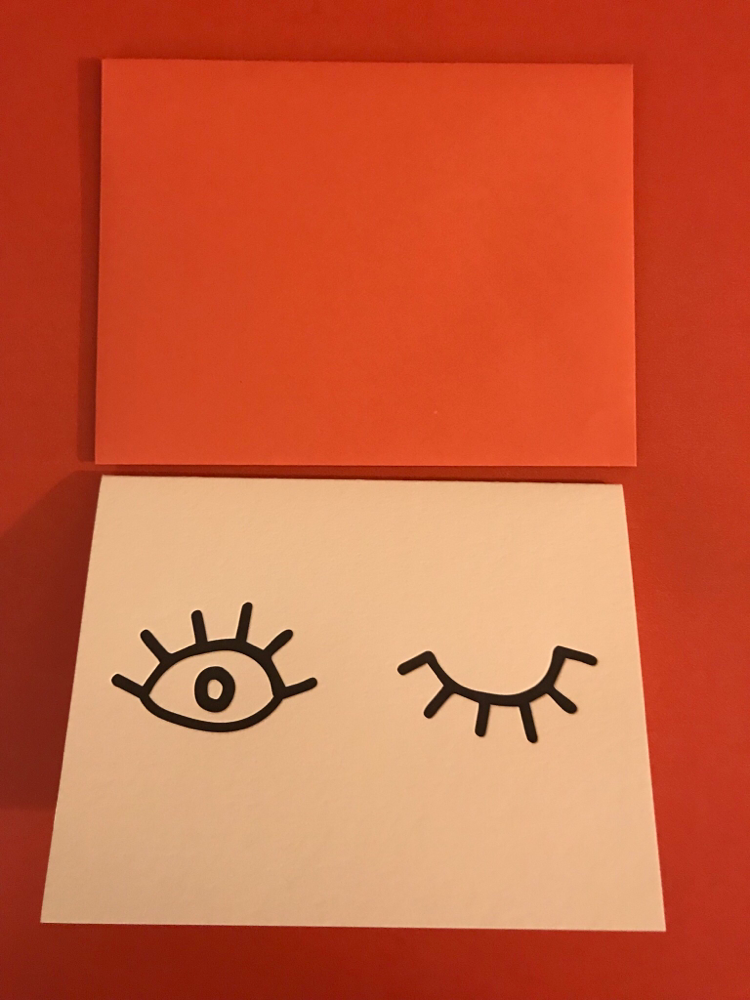 A Wink by Dahlia Designs.
Retail Value $5.50
This card can be sent to say many things, such as I like you, just kidding, It's all ok. The nice part is again it's blank inside, so you can express what you mean. It's a simple card, but can say so much.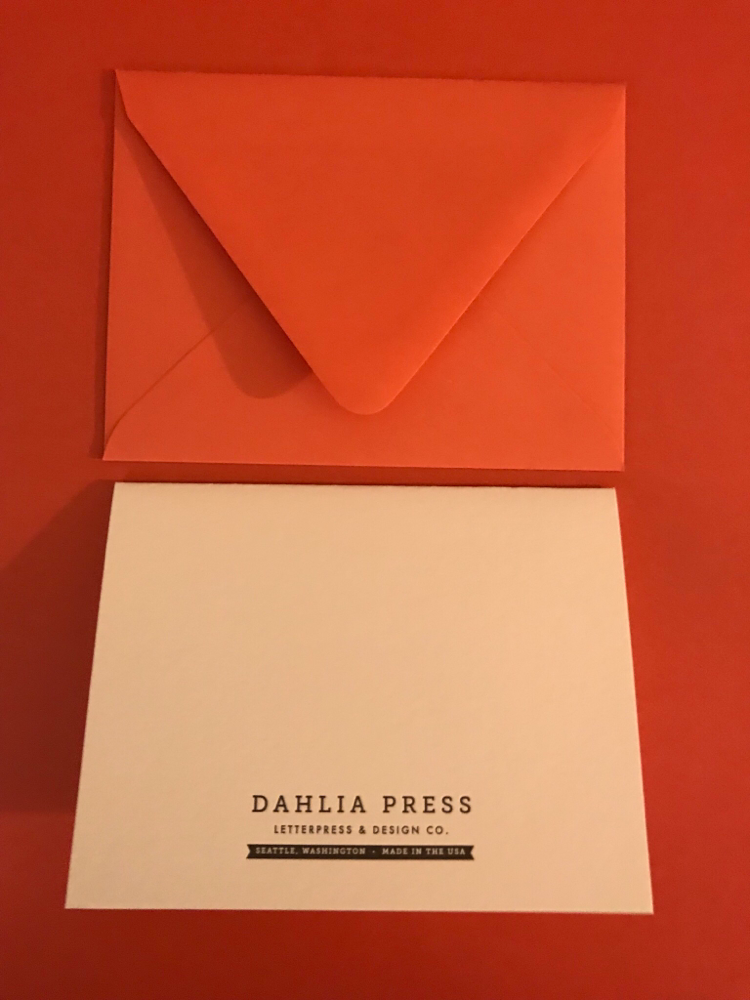 Dahlia Designs is located in WA, and is a stationary design studio operated by Stephanie Clark. Stephanie has a passion for one of a kind greeting cards that are a  delightful combination of wit and whimsy.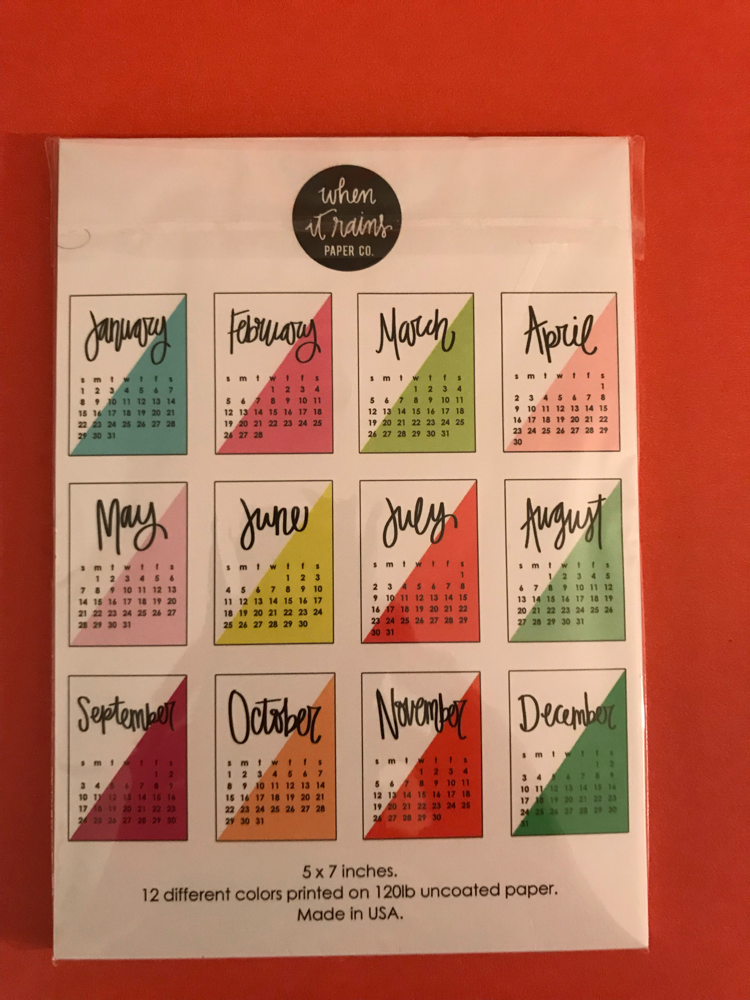 2018 Calendar(cards) By When It Rains Paper.
Retail Value $20.00
This product alone almost pays for the box. Wait until you see these.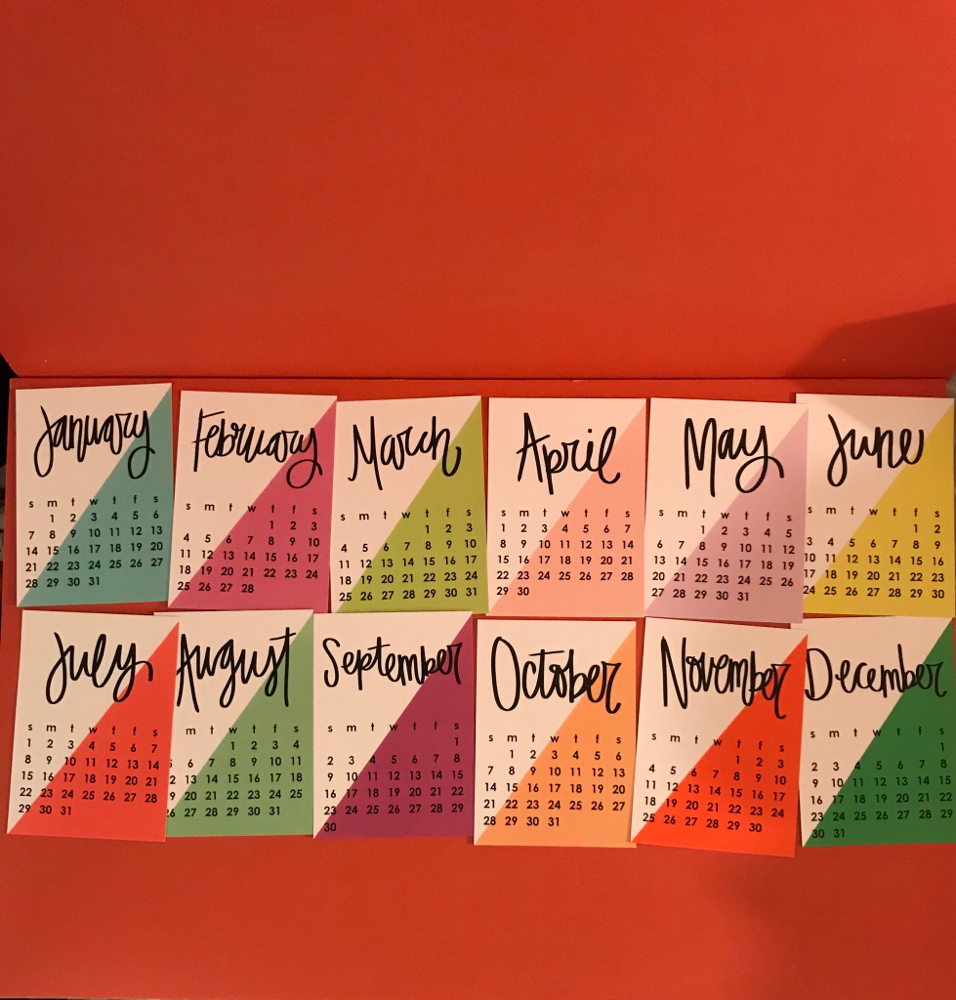 These are perfect for your kitchen, dorm room, office, or wherever you may need a calendar. These are just too amazing for words. I absolutely love these.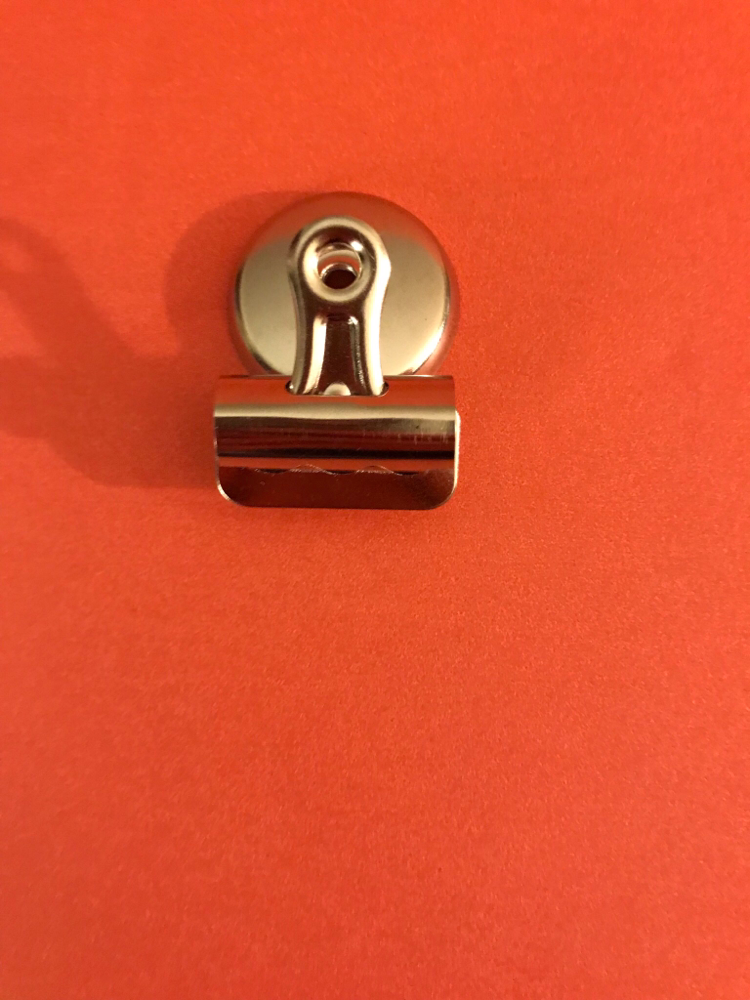 It also came with a magnetic bullnose clip.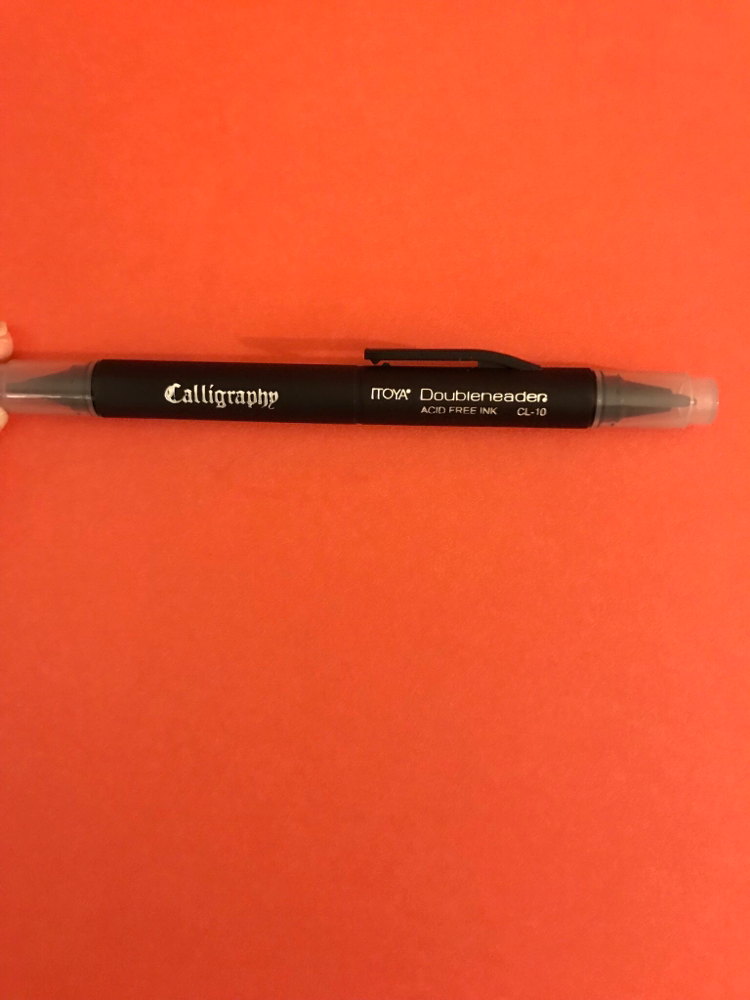 Itoya Doubleheader Calligraphy Pen In Black.
Retail Value $2.99
I haven't practiced calligraphy yet, but I'm going to definitely look up some helpful hints and start using it in my letters and cards.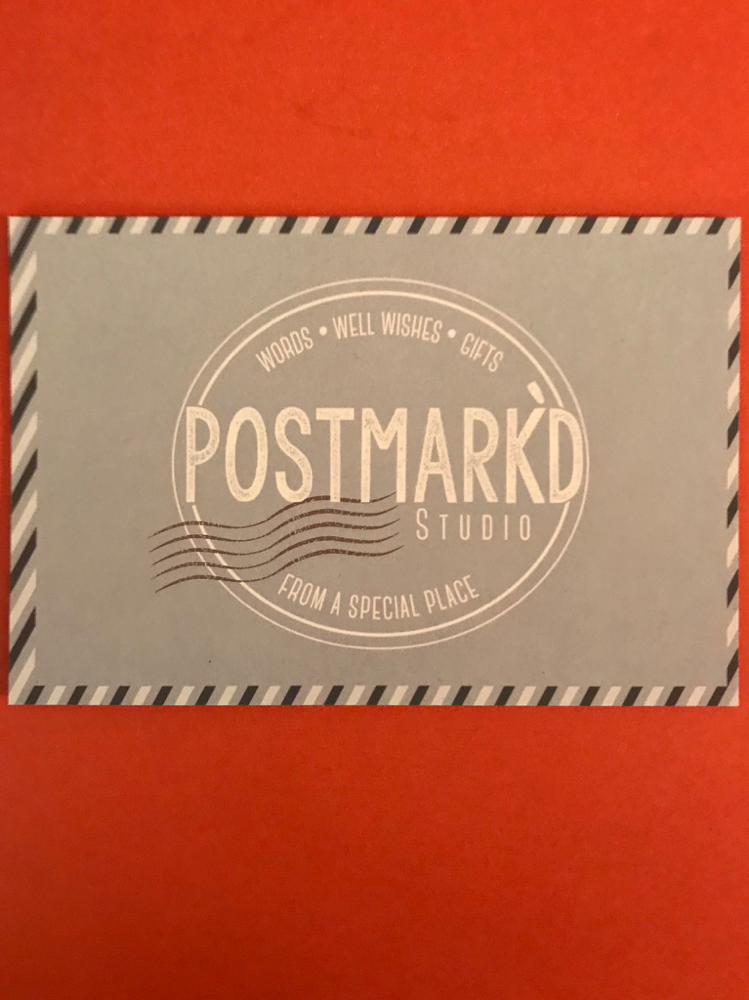 Bonus item a Postmark'd Postcard.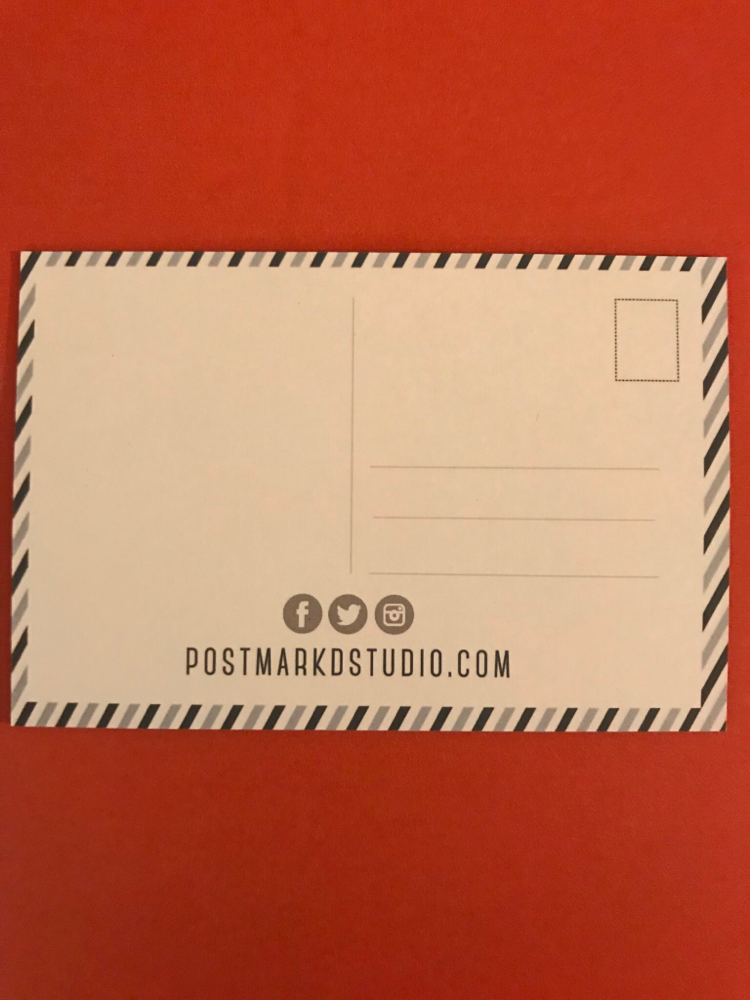 This postcard is on very thick paper and is a perfect way to just say a quick hello or greeting to someone.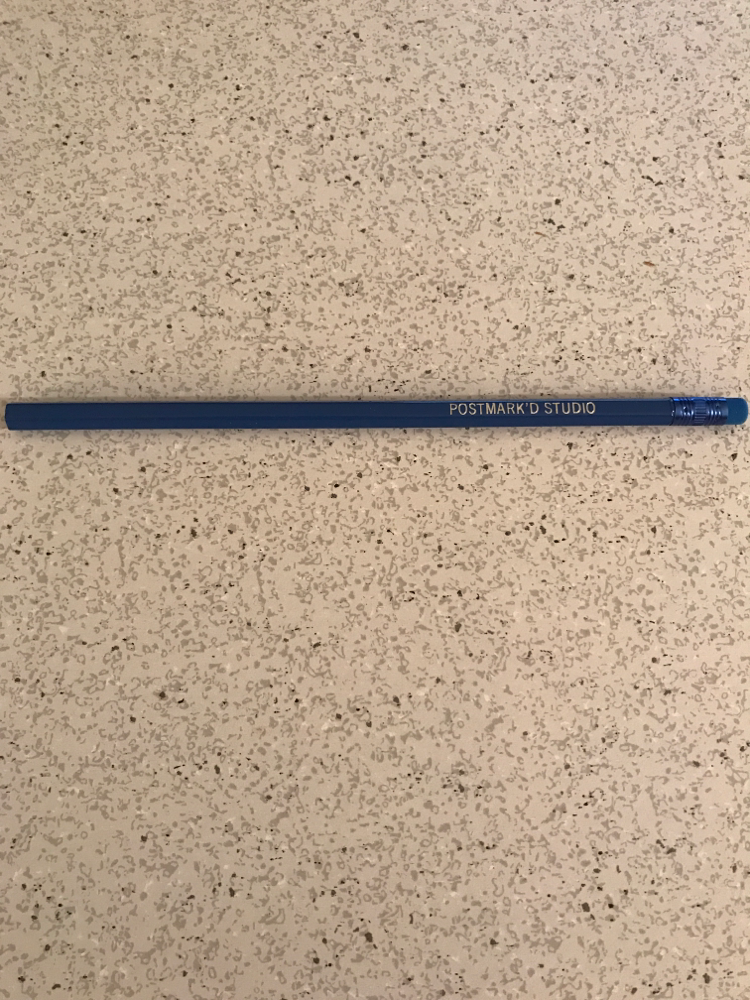 Second bonus item a Postmark'd Studio Pencil. I'm not a pencil user, but they are nice to have just in case.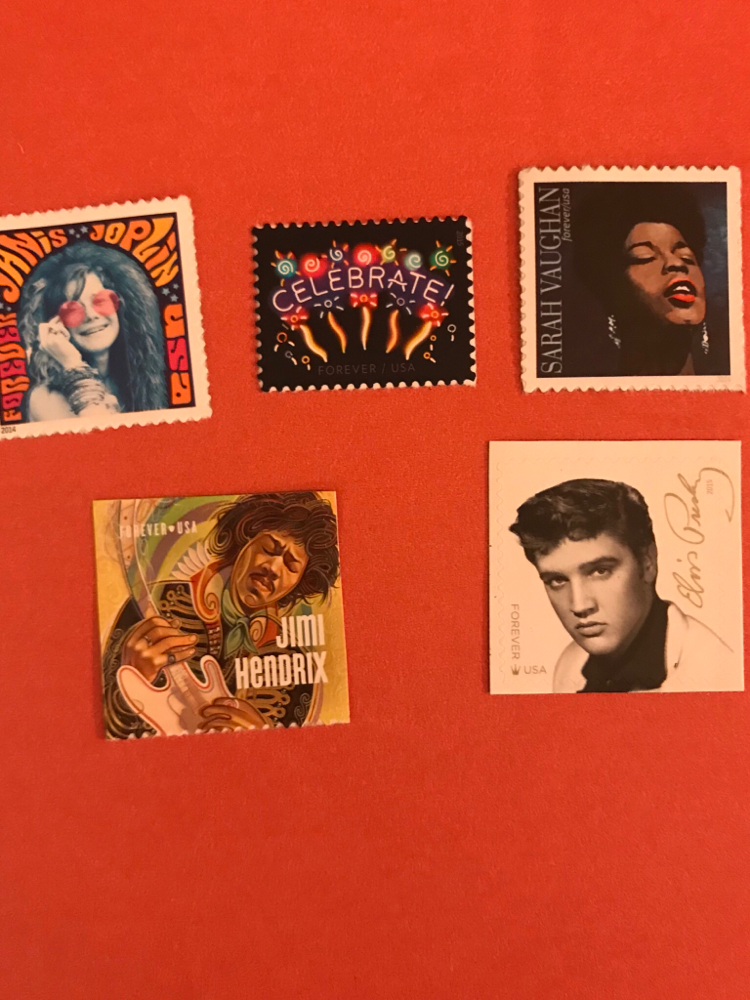 Last and most important item, stamps for every card.
Retail Value $2.25
Overall Verdict: This box comes to a total of $51.94, over double the cost of the box. I love this box. I think Snail Mail is so important these days. Just to take time out and write a thoughtful note to someone. It really means a lot to receive a card from someone. I also love the black and white theme. It's right up my alley. I also love how the cards are blank because you get to be authentic and write from your heart. Plus those calendar cards are amazing. Overall I highly recommend this box.
Which is your favorite card?
Comment below.