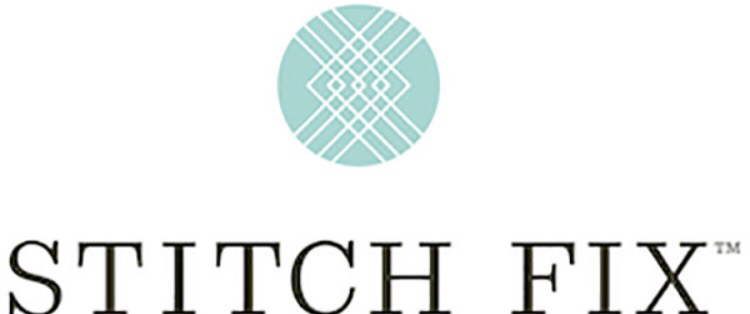 What is Stich Fix?
Stitch Fix is an online styling service that delivers a truly personalized shopping experience, just for you. Fill out your Style Profile and a personal stylist will hand pick pieces to fit your tastes, needs and budget- and mail them directly to your door. Each box contains five items of clothing, shoes and accessories for you to try on at home. Keep what you love, send the rest back in a prepaid USPS envelope. Shipping and returns are free, even on exchanges.
What is the cost?
The cost is $20 for each Fix. That $20 gets applied to any items you decide to keep, however if you don't like anything, your credit does not roll over and you'll lose it.
What Sizes do they carry?
First, they carry both Men and Women.
For the men's sizes:
Shirts, blazers sizes XS-XXL
Pants 28-42 with an inseam of 30-34
Shoes 7-13 with half sizes
For the women there's quite a lot:
The carry petite, regular, plus, and maternity sizes.
The petite section offers their clients access to inventory with shorter sleeves, narrower shoulders, and shorter hems and inseams.
For dress sizes the regular goes from:
00-16, XXS-XXL
Pluse size: 14W-24W, 1X-3X
Bra 30-46 AA-H
Skirt: XXS-3X
Pants: regular- 00-16 plus: 14W-24W
Jean waist: 24-34
Shoes: 4-12 with half sizes and they offer: narrow, medium, wide, and extra wide
For maternity they offer sizes in 0-14, XS-XL, as well as maternity friendly items in sizes 16-24W.
For sizes 0-14 & XS XL, they can style you through the full three trimesters and post-baby.
For sizes 16-24W, they can style you with maternity-friendly tops through your second trimester and post-baby.
Now onto the Fix: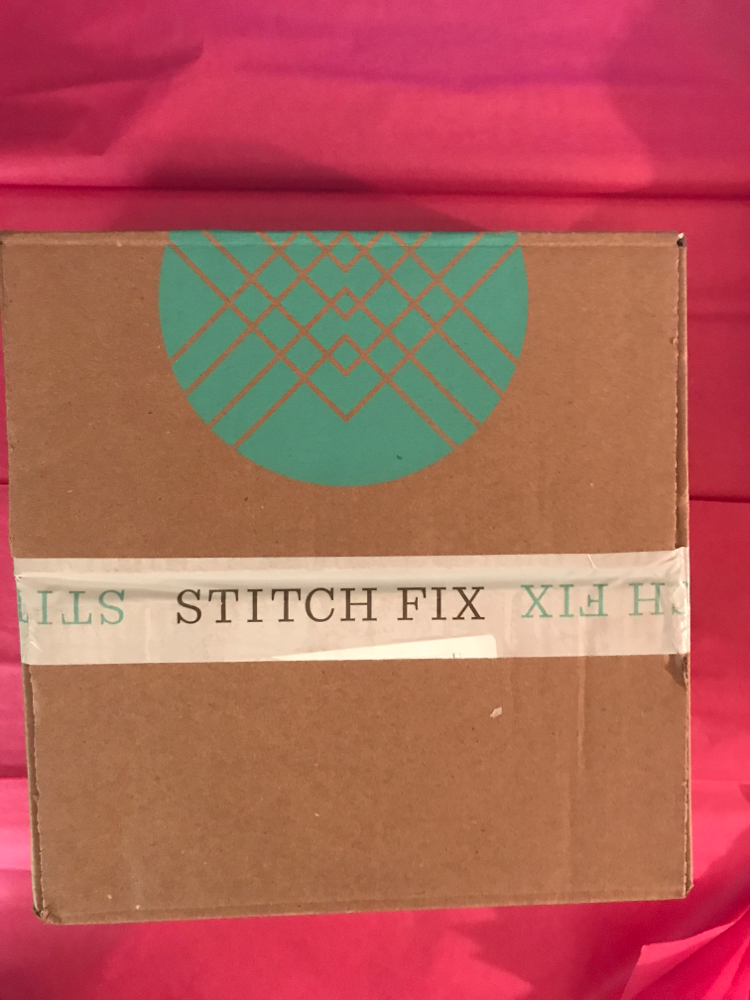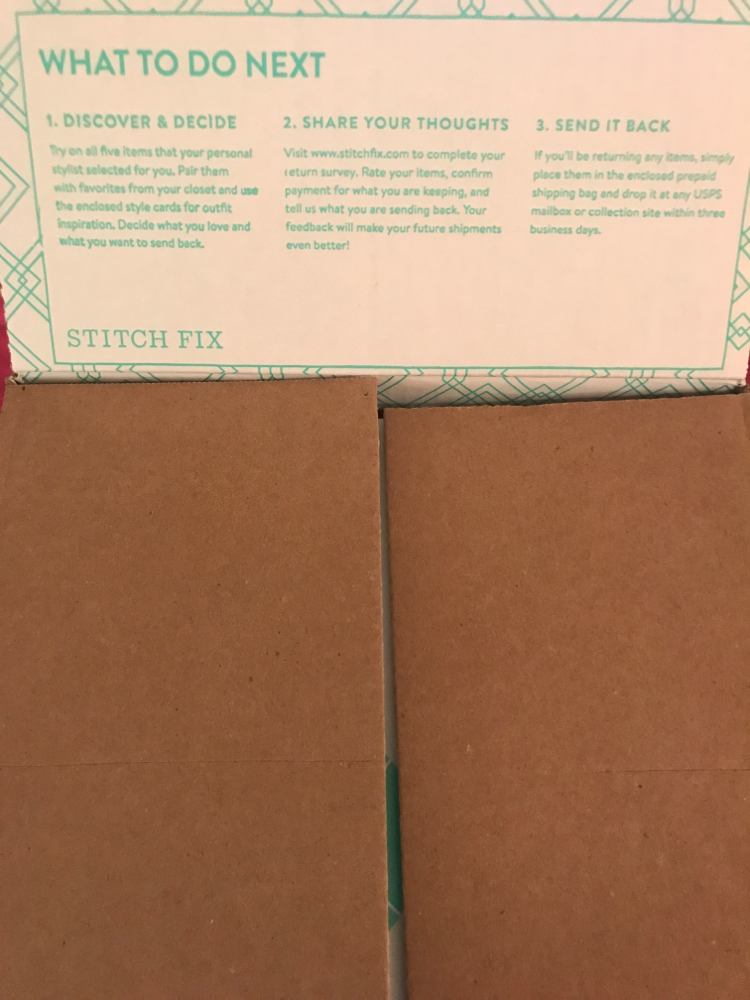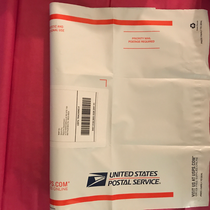 This is the large prepaid envelope that you return everything into and yes, it does all fit.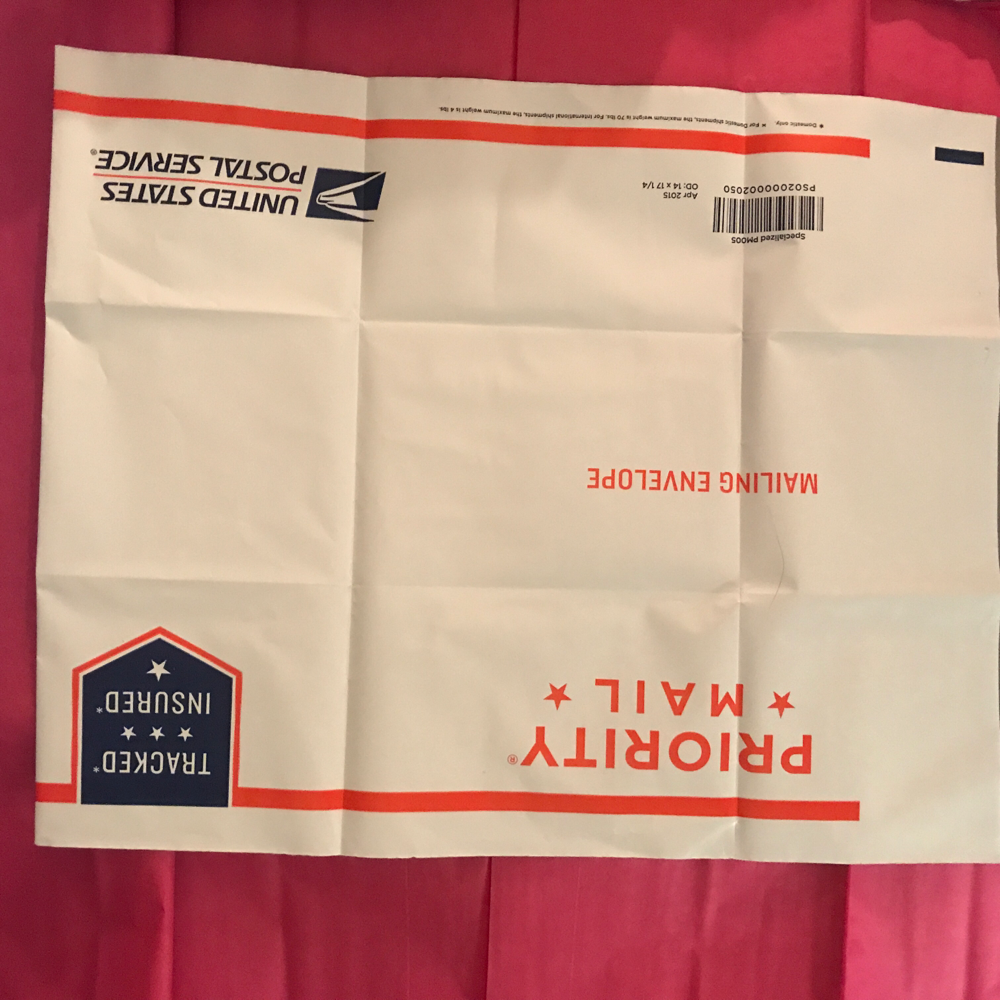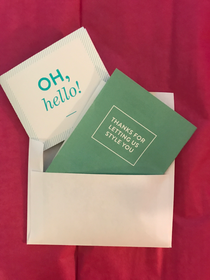 They send you an envelope with the cost of everything on in sheet and the other one is a note from your stylist and ideas on how to wear your items.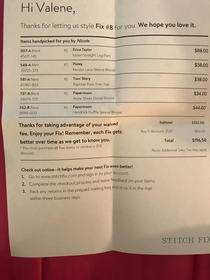 First the price guide sheet. If you keep everything you receive an extra discount.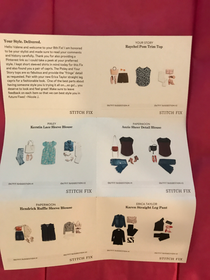 Second is the note from your stylist and wearing guide.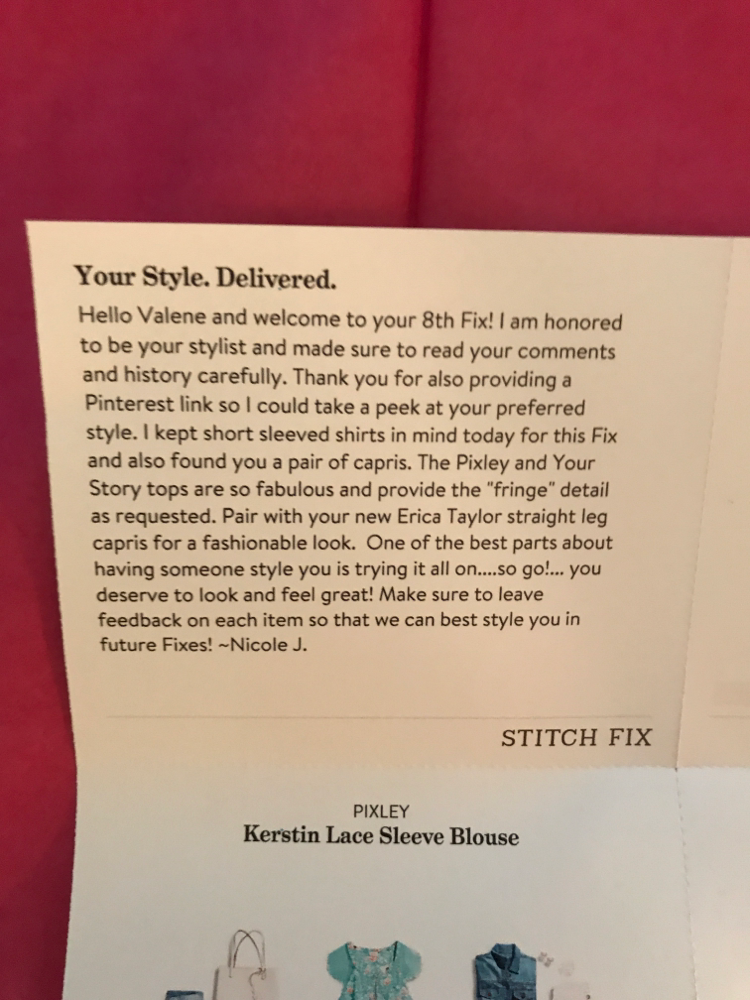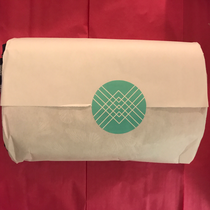 Everything comes packaged nicely.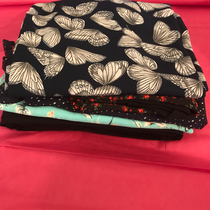 Everything is also folded very nicely.
Next I'm going to show you everything on. I apologize in advance for my appearance, I had just woke up, and the quality of the pictures. My poor Nan, is trying to learn to work a camera on a phone. This is just until my selfie stick arrives.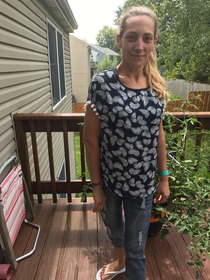 First is the Raychel Pom Trim Top. This looked huge to me when I held it up. At first I didn't notice the Pom Pom like things on the sleeves, but once I saw them I knew it was a no go for me. This top is $38.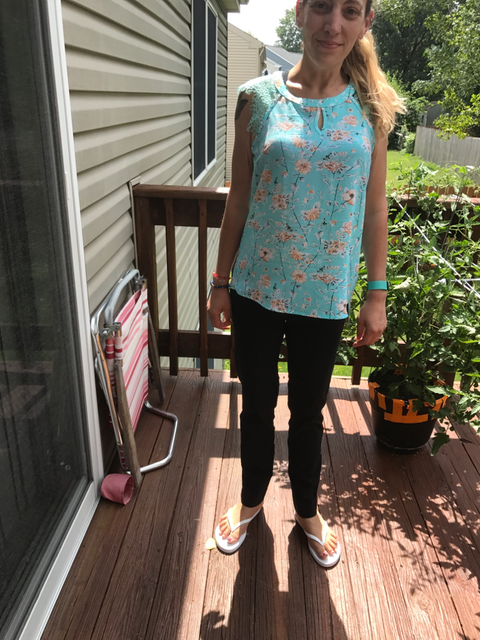 Second is the Kerstin Lace Sleeve Blouse. I fell in love instantaneously. I kept this. The cost was $58.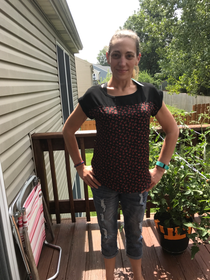 Third was Anzie Sheer Detail Blouse. This I was iffy about, but once I tried it on I liked it. The cost $34.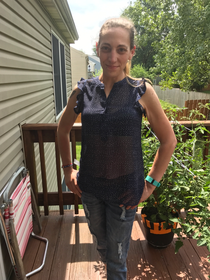 Next was a Hendrick Ruffle Sleeve Blouse. I thought, absolutely NOT!! It's beyond sheer-it's straight see through..... however, I tried it on and liked it and so I'll wear a cami underneath.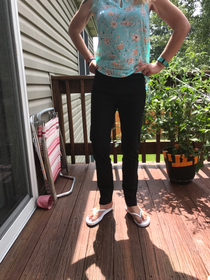 Last were a pair of Karen Straight Leg Pant. Why they sent me pants in the summer is beyond me, but they looked cute. They have a slit in the cuff which I loved. When I tried them on, it was a no go. There was way too much stretch in them and when I did the bend over test, they were falling down and had a large gap in the back.
I read my stylist's note and she thought she was giving me Capris.
The cost$88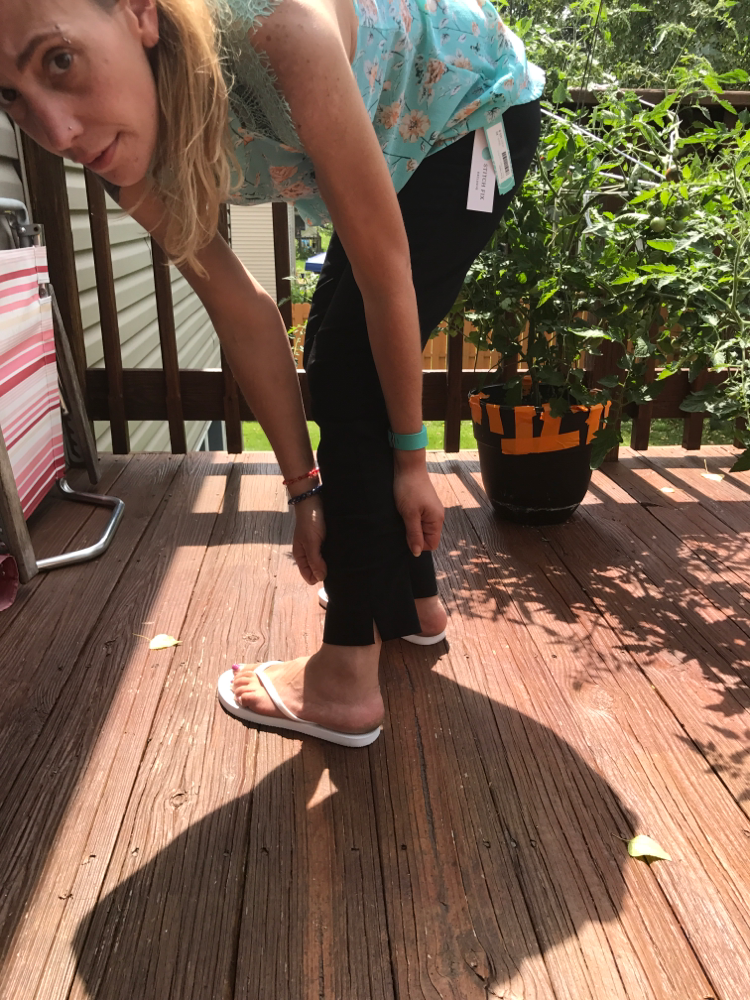 In the end I was pleased. I noticed that they're not keeping you with the same stylist which can be difficult, because they don't get to know your style preferences over time. I spent $136 and with the 25% discount they give you, to keep everything would've cost $196.50, so only $60.50 more, but my thought is why keep something you don't like.
Now normally your $20 would come off the total, but I'm in a special program called style pass.
What do you think? Do you get stitch fix. Would you like to get it? If so I have a referral code I can give you. Just comment on this or email me and I can email you the code.